Boohoo.com's acquisition of US brand Nasty Gal has moved a step closer after the US Bankruptcy Court approved the process to sell its assets.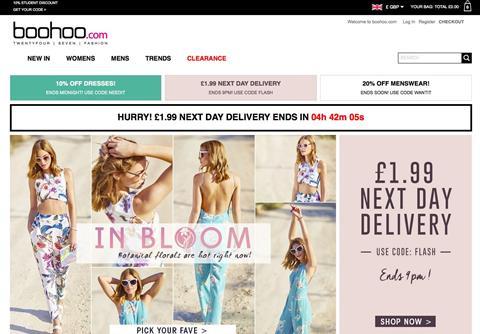 As previously reported, the fast-fashion etailer has entered into an asset purchase agreement to buy Nasty Gal for $20m.
Boohoo, which snapped up PrettyLittleThing.com earlier this month, said the "bold and distinctive" fashion brand would complement its offer and accelerate its growth in the US.
The online business warned at the time that its bid for Nasty Gal, which filed for Chapter 11 bankruptcy last November, was subject to the Bankruptcy Court's approval and might not complete if higher offers were obtained during the auction process, which ends on February 2.
However, Boohoo has now cleared the first of those hurdles after the US Bankruptcy Court gave plans to sell Nasty Gal's assets the green light.
Should Boohoo succeed in its bid to acquire Nasty Gal, the purchase will be subject to final approval by US courts. The etailer said this was expected "on or around" February 8.
Speaking after revealing news of the bid last year, Boohoo joint chief executives Mahmud Kamani and Carol Kane said: "Should we be successful in acquiring Nasty Gal it would represent a fantastic opportunity to add such a well-established, global brand to the Boohoo family.
"Following our recent acquisition of PrettyLittleThing.com, we believe this would represent an ideal next step in inspiring an ever-growing range of young customers internationally."