As Bonmarché posts soaring half-year profits, we speak to boss Beth Butterwick about its growth and how it plans to offset milder weather.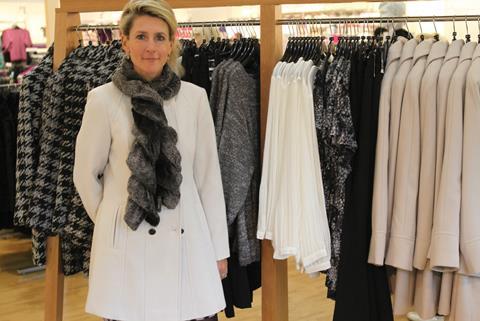 Bonmarché has posted a strong rise in pre-tax profits for the six months to end of September. What's driving growth?
At the end of the day, product is the most important thing that's really driving growth.
We are still at the value end – we haven't lost that fact really – but we've been aggressively pursuing our "first price, right price" strategy, which has involved sharpening our price points.
In the summer we benefited from growth from sales of cropped trousers and T-shirts, and we've noticed dresses have become more important to our customers.
You said that the warm weather in September reduced demand for autumn product categories and as a result, like-for-like sales in the second quarter fell 2.1%. Can you explain how recent trading has been?
The effects [of the mild weather] that impacted retailers in October and even November have impacted us as well.
The guidance that we're giving is that as it stands today, it will not impact full-year [profits] provided the weather normalises soon.
I think this is testament to the robustness of our business and the fact that we set sensible targets.
How do you intend to future-proof the business for any future unseasonal periods of weather?
We do typically have nine collection drops throughout the year but what we'll be doing is really repositioning what customers want through the year and look closely at what they're buying in August and September.
So more refocusing on what they wear now and buy now rather than offering the traditional categories. It's about having more of a balance of stock, such as offering separate cardigans and lightweight products.
We're not going to swing the pendulum completely but we're going to make sure in the months where it is milder that there's always access for the customer to make an impulse purchase.
Bonmarché launched menswear in October. What's the reaction been so far?
It's earning its space in-store. We've focused on tops rather than bottoms and focused on women buying for men.
We've had a good reaction so far. I've received some fantastic emails from men [who were pleased by our launch].
We're going to continue to expand the range in the spring, with the launch of trousers.
How did Bonmarché get involved in Black Friday?
We offered our customers 25% off – it was an online-only promotion. We absolutely smashed all online records. Today we're getting involved in Cyber Monday by offering free P&P.
How are you feeling about Christmas?
Our customers have finished buying their Christmas outfits and are now buying Christmas gifts. December will be interesting. But we don't sell white goods – Christmas isn't a critical month for us.
Bonmarché profits and sales surge as product and pricing overhaul pays off
1

2

Currently reading

Bonmarché: Q&A with chief executive Beth Butterwick