5% rise in global same store sales over third quarter to October 31
European like-for-like sales up 7%
Opened 16 TK Maxx stores and 3 HomeSense in the UK and Ireland over the quarter
Bargain-hungry shoppers have driven a strong third-quarter performance at TJX Companies, TK Maxx and HomeSense parent, with same store sales up 5%.
The global off-price retailer also reported a 5% rise in net sales over the third quarter. And net income reached $587m (£385m).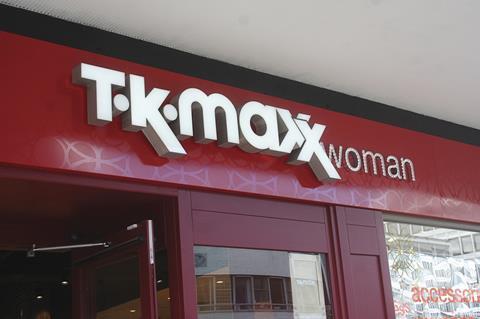 Net sales for the first nine months of the 2016 fiscal year have risen by 6% to $22bn (£14.4bn), with consolidated like-for-like sales up by 5%.
In Europe, like-for-likes were up 7% over the quarter with year-to-date sales up by 5% on a like-for-like basis, compared to 4% over the same period last year. Excluding the impact of currency exchange, TJX Europe reported an 11% rise in profits to $120m (£78.6m) compared to $108m (£70.8) in the same quarter last year.
TJX Europe opened 37 new TK Maxx and HomeSense stores over the third quarter, including its first TK Maxx store in the Netherlands, and a total of 53 for the year to date.
The retailer opened 16 TK Maxx stores and three HomeSense stores in the UK and Ireland over the quarter, bringing its total TK Maxx stores to 328 and HomeSense to 39.
TK Maxx has a total of 493 stores across Europe, which also includes Germany, Poland and Austria. It is planning to nearly double that figure "in the long term".
Carol Meyrowitz, chairman and chief executive of TJX Companies, said: "We are delighted that strong customer traffic drove our entire consolidated comp and was the primary driver of our comp increases at every division.
"Our excellent traffic gains and strong performance across our apparel, accessories and home categories, demonstrate that our brands globally are offering the right value and merchandise mix."