Net-a-Porter founder Natalie Massenet has stepped down ahead of the etailer's £1bn merger with ecommerce group Yoox. Retail Week examines why.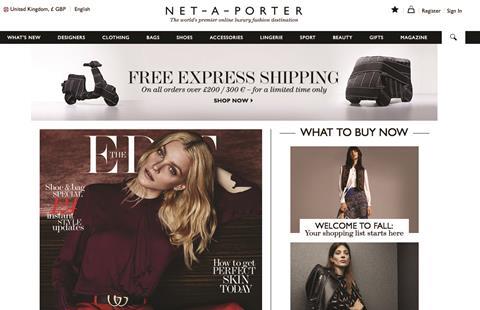 Massenet was poised to be executive chairman and oversee all editorial content of the combined group, Yoox Net-a-Porter. Today the former Women's Wear Daily and Tatler journalist's relationship with the company she created back in 2000 came to an abrupt end when it was revealed she had resigned and would not be a member of the new company's board.
According to reports, Massenet walked away with over £100m after selling her shares in the company.
So why did she depart before the merger? Speculation is rife that a clash of differences with Yoox chief executive Federico Marchetti is to blame.
Potential clash
"Given that Massenet and Marchetti are both two founding entrepreneurs, it was never a recipe that was going to work in the long term," says Lorna Hall, head of market intelligence at trend forecasting agency WGSN.
"Massenet and Marchetti are both two founding entrepreneurs – it was never a recipe that was going to work in the long term"

Lorna Hall, WGSN
"Marchetti is absolutely similar to her in some ways, they're both entrepreneurs. It's telling that she's sold all her shares and she's not taking on a role in name only. She's put this to bed, it's been an amazing 15 years for her and it's now time for her to do something else."
Pointing to comments Marchetti made, Hall says: "It's clear Marchetti thought there was room only for one boss and depending on how you look at that, it's slightly disrespectful."
Different visions
Analysts point out that perhaps Massenet wasn't happy with the merger in the first place, with Luca Solca, managing director of global luxury goods at Exane BNP Paribas, believing Massenet's exit was more likely to be down to a different vision of how the business could develop, rather than any perceived personality clash.
"Richemont and Massenet did not seem to be on the same page and I believe she was not in favour of a merger. The whole thing started with her having a big responsibility on paper – but a little responsibility on the business itself, as if she was already sitting in the departure lounge."
"With all early merger talks falling through, it was maybe clear that she didn't want merger to happen," says Hall.
Looking ahead
So what next for Massenet? Maureen Hinton, group research director at Conlumino believes her future could lie in magazine publishing. "She has a good relationship with Condé Nast so she could take a role there as there's lots going on over with Style.com and on the digital side."
Hall also believes that her future could see a return to magazine publishing. "She has always understood the importance of content to sell fashion in the same way Nick Robertson of Asos got it. Conde Nast has finally got to that point of understanding that and she is an expert in the ways to do it. So it depends on whether she wants to go back to content and bring her expertise of online digital retail into the luxury content market."
With such entrepreneurial vision, the other option of course is to create another start-up. "She might decide to take a clean break and start up something new again rather than take everything she learnt from her skillset and basically transform an existing business," says Hall.
Whatever she chooses to do, Massenet will be looked upon as true visionary who shook up the luxury online fashion space.
Hinton views Net-a-Porter as establishing the luxury digital market. "She proved to luxury brands that there is a big market online."
Similarly, Solca says Massenet should be given "kudos for inventing a very successful online retailer and for showing the way to relatively traditional luxury players and helping them understand digital is strategic."