While founders are frequently lauded as geniuses, they so often cause trouble for a brand further down the line.
This is the case for Julian Dunkerton. Dunkerton co-founded Superdry in 1985 and built it, first as chief executive and then as creative chief to a business turning over the best part of a £1bn a year.
Since he departed earlier this year, the wheels appear to have come off the business: the retailer was forced to issue a profit warning in its interim results today. Profits plunged 49% to £12.9m despite a 3.1% uplift in group revenue to £414.6m.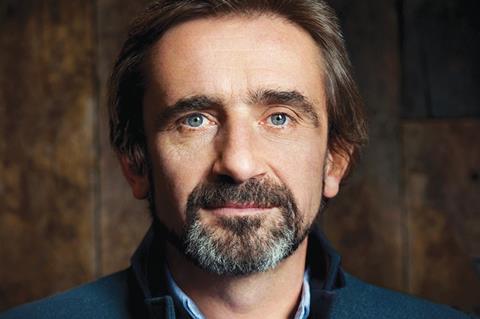 The share price fell a huge 34% today, furthering the downward trajectory that has seen it fall from 1,910p a year ago to 573p today.
This dip in performance has, of course, coincided with a dreadful clothing market for much of the multichannel world. Add to that the unseasonably warm weather, which has affected Superdry particularly badly given its reliance on outerwear, and it is unsurprising the retailer is struggling.
Dunkerton declared that he was ready to return as the retailer's saviour back in October and has continued to reiterate his calls for a change of strategy, most recently bringing in analysts Liberum to make his case. Liberum's lead analyst on Superdry, Wayne Brown, used to be head of investor relations at Superdry, helpfully.
But does the co-founder have the answers or is the new executive team on the right track?
Multichannel woes
Dunkerton's main criticisms of Superdry's new strategy, which was launched in September last year, centre around product and where it is displayed.
He believes that there are not enough SKUs and that stores and online are not being utilised properly with stores full of discounted fast fashion-style product and online not showcasing a wide enough range of product.
Today, chair Peter Bamford hit out at Dunkerton's criticism.
"Julian has raised exactly the same issues a number of times with me on a one to one basis, directly with the board and with a number of Superdry's institutional investors, as well as now with sell-side analysts" he said.
"The board has considered his position in detail and has rejected his proposals. We believe Julian's views on strategy have not evolved with what is now a multichannel, international and increasingly digital business."
Dunkerton, for his part, attacked what he sees as the current team's lack of online nous.
"This is a company that hasn't even understood the basic tenet of how the internet works," he told Retail Week.
"We have 4,400 SKUs online, Asos has 114,000 and 50% of that is own label. Online delivers enormous opportunities for SKU counts and allows a brand to test new areas. If you don't understand that then maybe you are in the wrong industry."
Superdry, like many in the market, is trying to balance its store portfolio and online operations as the world around it shifts.
It is looking into store closures, right-sizing, relocations and rent renegotiations in a property review that will complete in March next year. Approximately 60% of its stores are up for renewal over the next four years.
The retailer said that it had not yet decided whether it would shut any stores whatsoever. Whatever its conclusion in March, the more pressing issue is what Superdry is selling, rather than how it is selling it.
Product plans
Dunkerton's verdict on product was batted away by Bamford today.
"Julian, on his watch as product and brand director, did in fact sign off most of the product that is available today," he said.
"His departure in March this year has allowed the management team to commence the current innovation programme that is increasing choice for customers and has allowed that programme to commence and move at pace."
Dunkerton retorts that it was at this point last year that "meetings were happening without my knowledge[…] Peter needs to check his facts and timeline. I still have my diary of meetings I was and wasn't in."
The latest iteration of Superdry's product strategy involves adding product categories while slimming down the SKUs within its core, thereby diversifying range and slimming down options within that.
While Dunkerton has decried the slimming down of SKUs, Sutherland maintained today that SKU count has fallen drastically over the last four years with sales growing all the while.
The retailer has added performance wear in its ski and sport categories, has launched premium womenswear and will add premium menswear to its mix and today unveiled plans to launch kidswear.
The decision to launch children's product will no doubt be a money-spinner for Superdry.
Chief executive Euan Sutherland said today that wholesale partners had been "crying out" for a kidswear offer and that the retailer had been planning to launch it selectively but had been overwhelmed by the interest and had decided to offer it to three times the amount of wholesalers than it had originally planned to.
Wholesale demand aside, the question of what the venture will do to Superdry's brand equity should not be overlooked.
While sportswear brands such as Nike and Adidas do a lucrative line in mini-me children's wear, Superdry does not hold that universal, almost unstoppable appeal.
"It is a disaster," argues Dunkerton. "I have always said that the day we move into kidswear would be a deathly short term decision.
"The great thing about Superdry is that teenagers get excited about it. If your little brother Johnny is wearing it then you won't want to. Learn from the Abercrombie experience – it had to create Hollister to solve that problem and Superdry has no intention of creating a new brand. It is a risk beyond stupidity."
Ironically, Superdry's bright, bold product with its clean lines and sporty edge makes an excellent basis for a childrenswear brand.
But it is hard to argue with the view that brand equity will be damaged by the venture if it is rolled out under the same banner. The brand has a wide consumer base with 15% of customers under 16, 25% between 16 and 25 and 60% over 25 years-old. It is extremely difficult to cater to such disparate groups under one banner.
What now?
Superdry will press ahead with its current strategy and greater levels of new product will land in shops during 2019. Sutherland pronounced today that he was "very confident" in the new direction.
He added: "The fundamentals of our business are in very good shape. We have lots of confidence in foundation of business and the product that is starting to come through."
While Dunkerton left the business in April, he is angling to return and is trying to enlist shareholder support. His 18% stake means that he has, to an extent, the board's ear.
"I am furious, I am spitting teeth. None of this is a surprise, I told them this would happen"

Julian Dunkerton
"Look at the share price," he said today. "Nobody believes in their strategy. The City understands that this is a total vindication of everything I've said."
Dunkerton is adamant that he is the man to turn around Superdry's flagging fortunes.
"I have a strategy to make sure that we are perfectly positioned to be the most profitable branded company on the planet," he says.
"I am furious, I am spitting teeth. None of this is a surprise, I told them this would happen. It is now time for me to get back into the business so we can resolve next autumn's issues now."
While Dunkerton sees Superdry's current travails as vindication of his views, Sutherland will be determined to prove him a distraction.