Jaeger's recent exodus of senior staff is the latest volatility to hit the retailer, which has had more than its fair share of turbulence.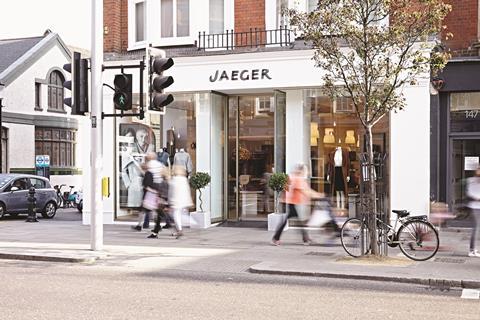 Earlier this month it emerged that its trading director, product director and chief information officer were leaving.
It has been some time since Jaeger's heyday in the 1950s and 1960s when stars such as Audrey Hepburn, Marilyn Monroe and Jean Shrimpton modelled its clothes.
Jaeger has been in and out of favour over the decades, which has left both its brand and its balance sheet in trouble.
Loss-making since 2012, pre-tax losses inched up £1m to £16.6m in its last financial year to February 27, 2016, although operating losses improved from £7m to £5.5m.
Ownership and leadership merry-go-round
The brand has been through multiple changes of ownership.
From 2003 to the present, it has passed through the hands of textile giant Coats, fashion entrepreneur Harold Tillman and private equity group Better Capital, via a stint under former Queen's Park Rangers chairman Richard Thompson.
And it has been led by a varity of people, including Belinda Earl, who is now Marks & Spencer's style director.
Under Tillman's ownership, Jaeger achieved several years of sales growth and became profitable.
However, after a difficult winter season, he lost control of Jaeger in 2012 when its debt was sold to Better Capital - a development that angered him because he thought a business recovery was close.
After Better Capital acquired Jaeger in 2012, the private equity house brought in former Esprit and Nike executive Colin Henry to manage its turnaround.
However, he left the business in 2015 without explanation, and Better Capital sent in one of its partners, Chris Horobin, to manage it.
"Jaeger's turnaround could have potentially worked under the strategy pursued by Colin Henry," says Retail Week Prospect head of research Phil Wiggenraad. "He tried to improve the product offer but wasn't given the time to execute that strategy."
Other analysts feel that Jaeger's problems run deeper than who runs it day to day.
"It has the wrong owner," maintains fashion industry consultant and ex-Drapers editor Eric Musgrave. "Private equity firms are not long-term investors who are prepared to wait for long-term returns."
The Jaeger-meister
But Jaeger chief executive Horobin rebuffs that suggestion as he takes the first steps in his five-year revival plan for the fashion brand.
An M&S graduate who spent two years as operations head at WHSmith and another four as the head of QVC in Japan, he has wide-ranging retail experience as well as private equity knowledge.
In response to questions about the stability of a senior team he inherited, he says simply: "You need the right leadership to turn [a business] around. We now have the right leadership to take us forward."
That team includes former Hunter Boot and Signet executive Ken Pratt, who joined as chief financial officer in July, ex-La Senza ecommerce manager Greg Saunders, who was hired as digital director in September, marketing director Georgina Drew, who will roll-out Jaeger's refreshed brand, and creative director Sheila McKain-Waid, who has responsibility for womenswear and menswear and store design.
The wrong direction?
However, Musgrave believes that the retailer's problems are too deep-rooted to be turned around under its current owners.
"Jaeger has been trading poorly for years and years," he says. "It's not a new problem and there is no quick fix.
"Everyone wants to 'do a Burberry'. But no one remembers how much time and money that particular transformation took."
Hyman believes that Jaeger's problem is not, primarily, its bottom line, but the top line and acquisition of new customers.
"They don't need better operational cost management," he says.
"Their problems are less on the cost side, more on the revenue side."
"Everyone wants to 'do a Burberry'. But no one remembers how much time and money that particular transformation took."

Eric Musgrave
But Horobin counters that last week 50% of customers at its new Marylebone High Street store, which opened at the end of October, were new to the retailer.
Under him, Jaeger's proposition has changed to offer a more prominent casualwear offering.
The classic wool coats and formalwear it was known for have been given much less space in the Marylebone High Street branch.
He argues that the brand's pioneering spirit had been lost and that modernisation is key to regaining what he terms a "premium, not luxury" position.
However, some industry observers question that direction.
"I don't fully understand why that earlier strategy has been jettisoned," says Musgrave.
"It seemed best to me for them to try to become an affordable luxury brand, a sort of aspirational British Max Mara.
"The alternative is to be middle market. That seems nonsensical, as that is such a crowded sector already.
"What is the USP of a once-premium band sitting in the middle market?"
Horobin insists that although its prices have lowered, its positioning has not and it remains where it has always sat in the market, "just below luxury".
Move away from discounting
In recent years, Jaeger shoppers have become accustomed to healthy discounts.
"Business like [Jaeger] are not structured to be on markdown for anything like the amount of time they are," maintains Hyman.
"It shows an unwillingness of the customer to buy at full price and it sends a very contradictory message.
"They are meant to be selling an aspirational product but it is literally and metaphorically devalued.
"Jaeger is still a brand that has some cachet. It's just that that cachet is evaporating as we speak."
Horobin says times are changing.
Jaeger is "transitioning", he says, to a business less reliant on discounting.
He says "honest pricing" is at the core of his turnaround, with the first price designed to be the final price.
It appears to be having some success. The retailer says that full-price sell through has more than doubled since it introduced its new pricing strategy.
Jaeger aims to have two main Sales, along with possible mid-season Sales, next year.
During 2015, it racked up just two weeks without discounting while this year, there have been eight such weeks to date.
While the retailer is at present advertising a 50% Sale on its website, Horobin says that he does not like being on promotion and does not want to be in the same position next year.
A tough market
Jaeger's most recent troubles have come against a backdrop of challenging fashion conditions.
With stalwarts such as Next and Primark faltering, apparel retailers will need to up their game in 2017, which Hyman fears will be the toughest in recent years.
"It will be an incredibly difficult trading climate next year," he says.
"The high street is massively oversupplied and that segment of the high street is very, very pressured.
"The idea of the business performing better next year is very unlikely."
"Anything is possible with enough time, money, expertise – and luck. The question is, what is Jaeger's role in the market?"

Eric Musgrave
That perhaps calls into question the retailer's future on that high street.
Industry experts think that Jaeger, in its current state, will be in for a bumpy 2017.
"The portents are very bad for them," says Hyman. "It's a real mountain to climb."
Jaeger's prestigious heritage is unassailable but it will have to be galvanised to thrive in 2017 and beyond.
Musgrave says: "Anything is possible with enough time, money, expertise – and luck. The question is, what is Jaeger's role in the market?"
Horobin's answer appears to lie in Jaeger's heritage.
His mission is to return Jaeger to the "pioneering and accessible" brand once loved by Marilyn and the like.
He hopes like diamonds, Jaeger can remain a girl's best friend.