Bicester Village has sales figures to die for, Prada and Gucci as tenants, and attracts some of the highest spending customers in Europe. Rebecca Thomson pays a visit to unearth its secret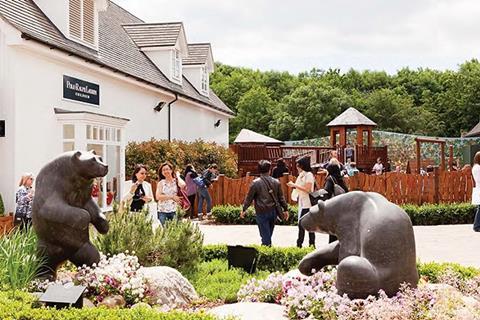 Dolce & Gabbana, Prada, Marni, Burberry, Alexander McQueen… the list of fascias could lead you to think this is Bond Street. But no. Actually, it's a cloudy day at an outlet centre 10 miles out of Oxford, in what is essentially the middle of nowhere.
Bicester Village's location, though, is no deterrent. This discount designer shopping village draws shoppers from all over the globe - 65% are overseas tourists - and has made a name for itself among fashion writers and in-the-know shoppers - one recent convert is none other than royal fiancée Kate Middleton. Even in the eyes of a future royal, online discounts, year-long Sales and a VAT increase are conspiring to make bargains the norm and even the most sophisticated shoppers are flexing their muscle and insisting on lower-cost goods and better quality shopping experiences.
As retailers face increases in the price of raw materials, many players on the high street are struggling to respond to price-sensitive shoppers' demands, but Bicester thinks it has the answer. As its popularity continues to grow, upmarket retail brands continue to take up space - Gucci and Prada opened stores there last year. Its spend per square foot is a staggering £1,500 - five-times higher than the average UK shopping centre spend of £300 - and it is riding the simultaneous waves of recession-related bargain hunting and demand for quality and luxury.
On first appearance it is akin to a Disneyland for women - almost every designer name is represented in spotless, uniform white fascias. Its shoppers are a mix of international wealthy-looking travellers, day trippers on a mission to spend and lucky locals who get to drop in regularly, picking up half-price bed linen from The White Company and Le Creuset kitchenware. Despite some frenzied purchasing, the atmosphere is generally calmer than most shopping meccas, helped by the open-air design and the constantly patrolling staff who make sure Bicester's exacting standards are maintained.
But the luxuriousness of the outlet centre, its big-spending consumers and ever-increasing sales figures belie the fact the business was started because of something as simple as EPoS systems. The advent of this now-ubiquitous technology shone a spotlight on how much - or how little - stock many fashion retailers were actually selling at full price. By taking advantage, Bicester is now reaping the rewards as more shoppers become aware of the alternative it offers to hectic high streets.
Bright idea
Founder Scott Malkin started his fashion career as part of the team that built the luxury shopping centre Two Rodeo Drive in California. The business was sold to a Japanese firm in 1990 and Malkin set up Bicester's parent company Value Retail in 1992. He says Rodeo Drive was the beginning of his education in luxury fashion and working in America with high-end brands meant he saw an opportunity open up EPoS developed.
"As EPoS came in there was a cultural shift," he says. "Brands could no longer claim they were selling everything because investors knew companies now had access to the numbers." Before EPoS, fashion retailers would only bring out unsold stock for Sales in July and December. "The turnover and profitability of a business would be influenced but it was a loss of face to say you weren't selling everything."
EPoS introduced transparency to this process, meaning brands had to face up to their unsold stock and find profitable ways to get rid of it. Outlet stores became a necessity, even for the most high-end brands, and Malkin saw that what had happened in the US would happen in Europe several years later. He founded Value Retail and 19 years later has nine villages outside major cities across the continent. The question for investors now, says Malkin, is how well stores are handling their surplus - it's crucial to take stale stock out of full-price stores and put it into a pipeline that's complementary to brand positioning, but that also gets it sold.
A shift in technology started Value Retail, and Malkin believes another one is behind its current success. With internet shopping taking care of most purchases fuelled by "need", the emphasis for store shopping is moving to indulgence. He predicts that in three to five years 30% of fashion retail spend will shift online, and that consequently store shopping will be a markedly better experience than it is today.
"The face of physical retail experiences in Western economies is going to be dramatically reworked over the next five to 10 years," he says. "Shopping in stores is now about enjoyment, not about need, and what constitutes enjoyment is changing."
If Malkin is proved right and 30% of fashion spend does happen online, then pressure will increase to do things differently: "A small percentage of retail locations will become more productive, a second bunch will lose sales densities and rents will have to fall in these areas, and a third group of locations are the walking dead. There will be no economic viability for them." Malkin thinks a commitment to hospitality will keep Bicester in the top sphere of viable shopping destinations. "I'm focused on how we're going to generate an experience and product of sufficient quality that consumers and brands are going to view our locations as must-have."
Attracting the brands
With names like Marni, Vivienne Westwood and Gucci all represented, Bicester has enticed brands that are wary of cut-price locations. It also has upper mid-market brands such as Cath Kidston, Petit Bateau, Reiss and Superdry, saying it wants the best in each brand category, not just luxury goods.
SuperGroup, parent company of fashion brand Superdry, says Bicester is its only outlet location. "It's been fantastic for us," a spokesman says. "Retailing with our high-end peer group generates a must-go-to shopping experience, unlike most other factory outlet locations."
French Connection agrees it's the presence of other quality brands and the "general air of a premium shopping experience" that attracted it. Director of marketing William Woodhams says: "It offers the opportunity to showcase your brand to foreign consumers and hopefully that can create more brand awareness in their home markets."
Meanwhile Jaeger says its partnership with the management team has lead to strong results for its store. Jaeger Group retail director Mike Thompson says it benefits enormously from Bicester's skills in international marketing (see box) and that the strength of partnerships between the outlet centre's teams and its retail brands is exemplary. "They are extremely professional and proactive in driving footfall and supporting the retailers," says Thompson.
As Malkin points out, part of the attraction for retailers is down to simple necessity; brands have to deal with unsold full-price stock. But part of it is down to the strength of Value Retail's brand. Its business model depends on sales royalties rather than rent - it takes 12.5% of sales exclusive of VAT - so Value Retail and its retailers are working towards the same end. Its management team all have retail backgrounds, so they understand what their retailers want and how to attract them.
For instance, says Malkin: "For years we've been asking ourselves, how do we create an experience or a product that would be appropriate for, designed for and valued by Gucci? We always said it would happen when Gucci was ready." The patience paid off after both Gucci and Prada opened their Bicester stores last year. "We continue to define ourselves by our customer, which is the brand. If we get that right it leads to the correct consumer coming."
Knowing its shoppers
Bicester gets people spending more per head than most shopping locations in Europe. It does this by targeting one type of consumer. Malkin says: "The only consumer that matters is a woman with a very specific profile. We know how she thinks, how she shops, how she travels. If that woman is here and she's happy, other shoppers will come. Everyone follows in her slipstream."
That woman is between 30 and 55, and is quite different to each retail brand's full-price customer. Aspirational and brand-aware rather than rich and fashion-forward, she's buying for a wardrobe that won't change rather than one that does. Malkin says she's established in her lifestyle or job, active in her work and within her family, and has a well-developed certain view of how she thinks the world should work: "She's decisive, she's got opinions and she understands her view of value."
Much of the time this customer is a tourist. The village is noted for its high numbers of Chinese visitors, but three years ago they were nowhere to be seen because they couldn't get visas to the UK. Before them, the Japanese tourist - who is now just as likely to visit Germany as London - was central, and in reality there's a nearly equal mix of Middle Eastern, African, Asian and European shoppers. The need to adapt as consumers evolve is crucial.
Bicester's tactics seem to be working. It is reluctant to discuss figures, but sales reported in 2009 showed that like-for-likes for the outlet centre increased 25% in the year to July. Building new villages is not part of the current plan nor is increasing footfall. Value Retail wants each visitor to spend more. It is still growing some of its villages to 20,000 sq ft, including Kildare Village outside Dublin, and there are still one or two big names, such as Marc Jacobs, that don't have stores in Bicester.
Malkin appears to relish the difficulty of keeping ahead in such a fast-changing market. "Fashion brands are extremely creative and energetic. They live and die by reinventing themselves constantly, and that's an exciting environment to work in. It's challenging to keep up with them." But if Bicester's achievements so far are anything to go by, it is likely to be setting the agenda rather than racing to keep up with it. The challenge for retailers is ensuring they keep up with Malkin's vision of that all-important enjoyable shopping experience.
How Bicester markets itself
Value Retail spends generously on its marketing, pushing the Chic Outlet Shopping brand for its nine outlet centres while also relying on positive word-of-mouth to spread the message among the right people.
It has a team of 50 who work on tourism and digital marketing globally, plus another six to support them in each village, so marketing makes up about a quarter of the 425-strong workforce. The target in 2011 is to get 785 million impressions of the Chic Outlet Shopping brand into the global tourism market, encompassing video, audio, print, editorial and advertorial mentions, up from a target of 720 million in 2010. Malkin says the company has an "unusually high number of unusually expensive employees", but that the investment is worth it.
"We're spending all this money, but we're not advertising," he says. "The ideas are somewhat unconventional," admits Malkin, "but they're customised towards a particular customer."