Women's fashion retailer Hobbs unveiled a 3.9% increase in like-for-like sales in the 13 weeks to December 31.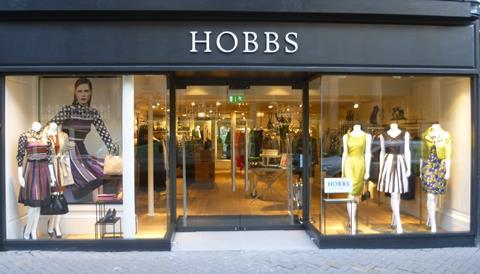 In the three weeks preceding the big day, like-for-likes at the 3i-owned business jumped 16.1%.
Total sales across the 13-week period rose 14.3% year-on-year, following investment in product range and customer experience, while online sales grew 26.7%.
The fashion retailer has been focused on bolstering its omni-channel offer, introducing an in-store 'clienteling process' and a personalised 'boutique' experience based on customer data.
Hobbs said its trading margins improved by 1.1ppt.
International expansion
Knitwear and outerwear proved popular, as did novelty loungewear.
Sales at the retailer's international division nearly doubled – up 97.9% year-on-year – as Hobbs expanded its Bloomingdale's partnership, launched its first standalone store in New York and entered the German market.
Hobbs chief executive Meg Lustman said: "Our international store portfolio has continued to develop and we are encouraged by customers' reactions to the Hobbs proposition in new markets."
On current UK trading conditions, Lustman said: "Whilst market conditions in the UK are forecast to remain challenging for the year ahead, we are confident that Hobbs is well-positioned with a clear strategy and a pipeline for growth."
Earlier this month, reports claimed the fashion retailer was being primed for sale.
3i is believed to be eyeing a £80m price tag for Hobbs, which is back in the black after a turbulent few years.