Getting the retail basics right is no longer enough, retailers "also have to do the frills" to create an experiential shopping environment.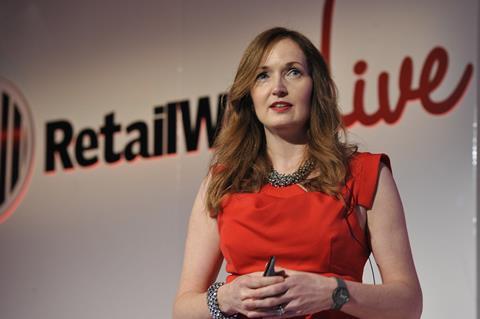 That is according to GDR Creative Intelligence chief executive Kate Ancketill, speaking this morning at Retail Week Live.
Ancketill said: "Consumer expectations are rising rapidly. You have to get the basics right but also have to do the frills as well. Having the basics right isn't enough anymore. Retail isn't a place where you buy stuff anymore it's where you go to be entertained."
She said that providing the customer with more of an experiential shopping environment was key, but that it does not need to cost the Earth.
"There are quick wins that provide easy cut through. But it requires a mindset that has to be open," she said.
Ancketill outlined three trends in retail; the frictionless shopping experience, hyper personalisation and 'surprising' new channels.
Examples of a frictionless shopping experience highlighted by Ancketill include having orders delivered to you regardless of where you are by using GPS, and 'clientelling', where retailers recognise shoppers' faces when they walk through the doors and offer them appropriate deals. PayPal is trialling this initiative in a handful of shops in Richmond at the moment, using face recognition technology. "We think that's going to be huge," she said.
She also gave the example of Fiat Brazil, which arms shops assistants with helmets loaded with a video camera so that customers can go online and see what the shop assistant is seeing, and ask them questions along the way, giving them a real time virtual test drive. "It has huge implications for retail," said Ancketill.
She also cited Google Helpouts as a new initiative that could have ramifications for retailers. Help outs involve people giving individuals masterclasess on a certain subject, and Ancketill said this could have potential for brands that offer premium services, such as personal assistants.
Subscribe for full coverage
If you're enjoying our coverage of Retail Week Live subscribe for full access.

To subscribe with a 10% discount visit subscribe.retail-week.com/RWK-SBNI