After posting its first-half results, Game is focusing on its transformation strategy bolstered by the expansion of its Belong gaming arenas.
The retailer posted a 20.3% increase in pre-tax profit year on year to £14.8m in the 26 weeks to January 26, though revenue declined 4.7% to £493m due to falling sales.
The specialist retailer plans to boost those numbers by focusing on its transformation strategy to go from seller of physical products to one providing gaming experiences.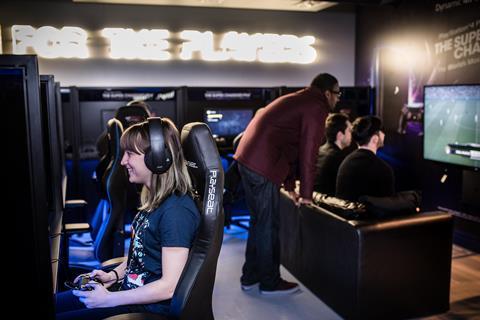 The driving force of the retailer's transformation plan is to roll out more Belong gaming arenas, which are found in Game and Sports Direct stores as well as standalone locations.
Game chief executive Martyn Gibbs said: "We've got two new Belong arenas that have opened in the half.
"We've extended the number of stations in the existing arenas and we've got many new locations at planning stage and we're looking at all opportunities at fast tracking to continue that programme."
Gibbs said the key part of the transformation strategy is to focus on opening much larger sites with around 50 seats while steering away from the 12-seater arenas already in place.
"We do believe there are potential opportunities for us to open far larger arenas than that and our focus is getting one of those arenas open, so we can trail the model at the other end," he said.
As part of the strategy the gaming retailer will work on uncovering cost saving efficiencies throughout the business by reducing rents.
Gibbs said the retailer is also cutting costs by reducing or extending opening hours on a store by store basis.
"If we have no customers coming into our stores between 9am and 11am then we've obviously moved the opening hours back," he said.
"We believe that is aiding and supporting a more efficient store contribution that we are able to drive and therefore we're able to keep more stores open."
Although it will bring staff hour reductions, chief financial officer Ray Kavanagh confirmed that does not mean mass job losses or redundancies.
"We've not done any mass redundancy or consultation process or anything like that with any of our store colleagues," he said.
"It is just about reviewing hours and being tighter around taking on new people."
Mass rent reduction is high on the retailer's agenda too.
Game reported a £1.2m saving from rent reductions during the period and plan to continue with negotiations with landlords.
Gibbs said: "Our average saving on rents negotiated in the period was 59%. We now have 26 stores on zero rent and have a 0.8-year average length to break.
"That means we have ultimate flexibility on our store base."
Kavanagh added: "We only have a handful of stores that aren't making a positive contribution. Those locations-unless they can secure significant rent reductions at the appropriate time of the lease-we will close them but it is literally a handful out of 274 stores."
Game ramps up arena expansion in transformation plan
1

Currently reading

Game ramps up arena expansion in transformation plan

2