Up to 10 would-be buyers consider whether to table offers for 249-store electricals chain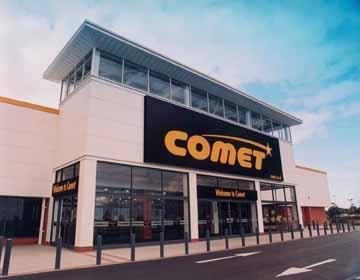 Directors and advisers of electricals group Kesa will begin detailed consideration of a sale of the Comet chain on Wednesday, when first-round offers must be submitted.
About 10 potential buyers are eyeing Comet and are now deciding whether to go ahead and table indicative offers.
Among those thought likely to proceed are OpCapita, the private equity firm that bought the BUT furniture and electricals chain from Kesa in 2008 for e550m and where former Dixons director David Hamid is an operating partner, and restructuring specialists Hilco and GA Europe.
It is unclear what, if any, trade interest there may be in Comet. Metro, the German group that owns the Media Markt and Saturn businesses, is understood to have declined requests to forge a partnership with financial buyers to take control of Comet. There was speculation that Chinese giant GOME, which has 1,300 shops and last year generated sales of Yn50.91bn, could emerge as a surprise bidder but that was dismissed as "far-fetched" by one source familiar with the situation.
Talk that Best Buy, which launched in this country last year in partnership with Carphone Warehouse, might also bid was also described as unlikely.
One source said that only limited information on Comet has been provided so far to interested parties, so the likelihood is that several will make offers by next Wednesday to retain seats at the table. The real horse-trading will follow after.
Kesa chiefs, advised by Bank of America Merrill Lynch, are considering the sale of 249-store Comet, which last year plunged into a retail loss of £8.9m from a profit of £11.5m the previous year, alongside their own turnaround ideas.
Leading shareholder Knight Vinke said it has no objections to a sale, assuming an acceptable price can be achieved and the process is concluded within three months.
The possible sale of Comet comes during torrid trading for UK electricals groups. Market leader Dixons warned on profits earlier this year, while Best Buy's loss-making big-box opening programme has been put on hold.
A Kesa spokeswoman declined to comment on the progress of Comet's potential sale.