Reports loss after investment in Germany and marketing there and in the UK
Reveals plans to launch in Netherlands in spring
Sales up and market share gains made
Ao.com sales rose in its first half but it slipped into the red after investments in its overseas operations and marketing.
Ao reported a group operating loss of £8.9m against a £900,000 profit in the six months to September 30 "reflecting the ongoing investment in German operations and start-up costs in further Europe territories" of £900,000.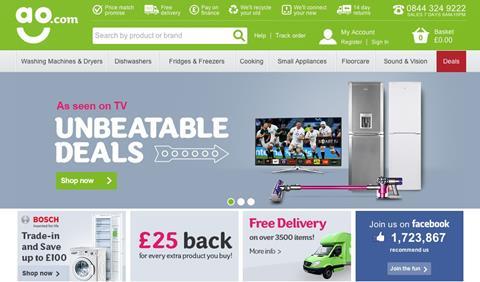 The retailer has revealed it will launch in the Netherlands in the spring.
Profits have come under pressure in the UK too. Adjusted EBITDA was down from £7.3m to £5.1m after margin fell from 3.4% to 2% "due to investment in marketing to increase brand awareness and investment in overheads to drive margin and ensure resilience across the business".
Total revenue increased 21.7% to £264.3m.
Ao UK website sales increased 23.7% to £214.8m and total UK revenue advanced 14.5% to £248.6m. It said it made "a further gain in market share".
Europe revenue was €21.7m (£15.3m) and the adjusted EBITDA loss was £9.6m.
Ao said its UK NPS remains "at its historically high level" of over 80%.
Growing brand awareness
Ao chief executive John Roberts said: "Ao World has made good progress. We have continued our mission to redefine retailing in our chosen categories, and we are winning market share in all those categories.
"Our brand awareness has increased significantly following successful investment in marketing; bringing in new customers and helping us improve repeat business metrics.
"We remain confident that our business model and customer proposition are working as well on Mainland Europe as they have in the UK"

John Roberts, Ao
"In Germany, our first international market, we are continuing to build scale and remain confident that our business model and customer proposition are working as well on Mainland Europe as they have in the UK. Our confidence means that we are now ready to move into the Netherlands, helping to leverage our German asset, and we continue to review other adjacent markets.
Long-term plans
"Looking ahead, it is clear that the momentum we built in the second quarter has set us up well for the full year. We remain as confident as ever that the market dynamics are moving in our favour as a pure-play digital operator in a market where customers continue to move rapidly online and our excellent service will only accelerate this. Against that backdrop we are well placed to deliver sustainable long-term growth."
Ao said it invested "heavily" in TV advertising and PR and content marketing. The TV ad, calling on consumers to "join a million happy customers", has resonated well in both the UK and Germany, Ao said.