Ao.com boss expects Black Friday to be bigger than last year
Electricals retailer kicked off its Sales last night
Existing customers are alerted to the Sales first
Ao.com boss John Roberts said he plans to "win" Black Friday this year as the electricals retailer kicked off its Sales bonanza last night.
Roberts, who admitted the company was unprepared for the Black Friday chaos that ensued last year, said he expected this year's shopping extravaganza to surpass last year, which saw British consumers spend £810m on online purchases alone.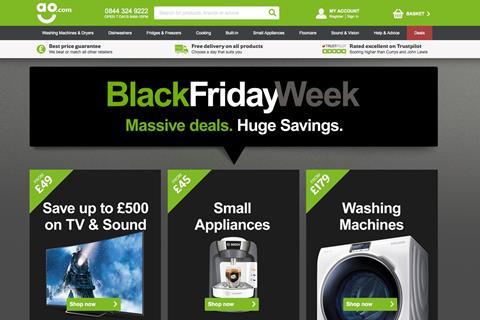 "We're going to be bigger this year. This year breakfast TV has been covering it all week and I've done more interviews around Black Friday [than I've ever done on anything] so it becomes a self-fulfilling prophecy.
"We plan to win. We've got certain price breaks on products released through the week. We'll release Sales first to our existing customer base so the loyal get the opportunity to apply first. But we also see this as massive opportunity to win new customers and bring engagement to a new level."
Roberts declined to comment on how deep some of the savings will go or how long Ao will offer discounts for – some retailers' Black Friday sales range from one day to a week-long extravaganza – but said promotions had kicked off last night. Deals include a Samsung Smart Curved TV down from £749 to £449.
Planning in advance
Despite the slashing of prices, Robert said he doesn't expect margins to be impacted.
"We knew 12 months ago this was coming and if you can work with the brands you can get real economy in scale if you're willing commit"

John Roberts, Ao.com
"Again it comes back to planning. We knew 12 months ago this was coming and if you can work with the brands you can get real economy in scale if you're willing commit, and we're always willing to commit."
"The key for me is that the customer votes with their card.
"The genie is out of the bottle – online was the big winner last year. There were pretty ugly scenes in retail last year with people knocking seven bells out of each other to grab a bargain. Unless there's an aggressive family, it doesn't happen online. You can sit on a couch and order with no-one punching you in the face and get a TV for next to nothing.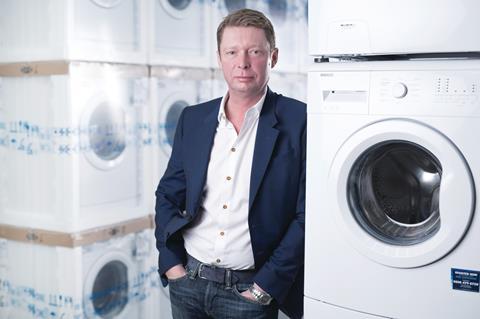 "The big winner last year was online and the big winner was electricals. It's a great opportunity for customers to stock up on a lot of Christmas presents and get bargains."
The company revealed this morning that it will launch in the Netherlands in spring 2016. Roberts said the company planned to be in "every country touching the German border".
He said there was no specific order to when it comes to the markets, but added that the firm was "accelerating most of its plans".