AO.com has narrowed its full-year losses amid strong sales growth across its UK and European markets.
The online electricals business booked an adjusted EBITDA loss of £400,000 in the year to March 31, down from £3.4m the previous year.
The group's operating loss also narrowed to £15.2m from £16.2m in 2017/18.
AO attributed the improvement in its bottom line to growth in its core UK market, where adjusted EBITDA spiked 20.9% to £27.4m, buoyed by the acquisition of Mobile Phones Direct (MPD).
On a like-for-like basis, stripping out the impact of the MPD business, UK adjusted EBITDA was up 14.3%.
Total UK sales jumped 10.1% to £749.3m, while like-for-likes climbed 5.7%.
But AO's European operations remained challenging, as losses widened to €31.3m (£27.8m) from €29.6m (£26m) in 2017/18, despite a 32.2% spike in sales.
AO admitted it had made "less progress than expected" on improving product margins, lowering customer acquisition costs and battling the cost pressures it experienced from reconfiguring driver scheduling arrangements in Germany.
However, it said it was "working to address these issues" and reiterated its target to be profitable in Europe during 2020/21.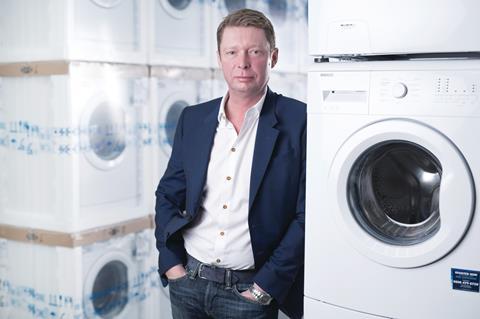 AO founder and boss John Roberts, who returned to the helm to replace Steve Caunce in January, said the group now had "a renewed mindset" as it targets future growth.
The business said it is "refocusing on growing our third-party Logistics business" in order to better leverage its delivery expertise and infrastructure.
It is also developing its finance proposition and has launched a trial of rental services for white goods, working alongside two Housing Associations.
Roberts said: "The AO model is an ecosystem of complementary competencies across retail, mobile, recycling and logistics through to financial services and B2B trade. We have huge structural advantages when these capabilities operate in harmony.
"So, we have enhanced structure with informality and a renewed mindset and are now releasing the immense unrealised value we've created. We've started to see this in the last few months and it will be an important driver for the year ahead."
AO.com boss: We wasted millions on Brexit 'non-event'
1

2

Currently reading

AO narrows losses amid 'renewed' strategic mindset