EBay has launched an outlet section on its website, in its latest attempt to become more attractive to retailers.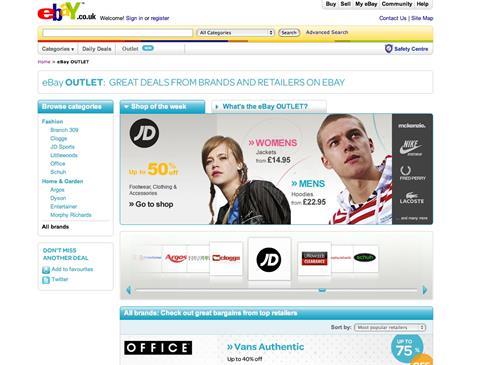 The outlet section sells products at up to 70% off recommended retail price with retailers including Argos, Schuh, JD Sports Fashion and The Entertainer all signed up to the area.
Each retailer has its own online shop-in-shop that can be linked to through the outlet, which sells largely branded goods.
A spokeswoman from eBay said: "The outlet brings brands together in one place as we want to make it easier for buyers to find what they want."
She added that the outlet section will expand and expected it to attract more retailers to sell on the site.
EBay has been actively trying to bring more big sellers to its site, taking its strategy away from being simply an auction site with smaller sellers. Earlier this year eBay said that it expects sales from retailers and big sellers to reach £1bn in the next five years.
The online giant has been helped by the recession as retailers have tended to have more surplus stock to clear.
IMRG director of operations David Smith said that the move is a good way for eBay to leverage its position as one of the most visited internet sites. "They have a bargain-hunting audience and with that and retailers looking to clear more stock it could be a good proposition."
He said that in clothing particularly many retailers have been sitting on large amounts of overstock that new sites such as Brand Alley and Vent-privee have been taking advantage of.
However, he warned that this trend may not last. "Retailers will be reducing the amount of stock that they bring in because of the sales patterns of the past six to 12 months."