As the department store market comes under greater pressure perhaps than ever before, the job of turning around Debenhams looks more and more demanding.
The retailer is in the midst of a major transformation programme put in place by chief executive Sergio Bucher, who joined last year.
Debenhams' last full-year update wasn't pretty, serving to underscore the need for change. Pre-tax profit slipped 10.4% to £101.7m in the 52 weeks to August 27, 2016, although like-for-likes crept up 0.6%.
And house broker Citi doesn't expect that story to get any better when it posts its latest prelims next Thursday, estimating that pre-tax profit will decline another 7% to £95m, with like-for-likes dipping the wrong side of flat.
When broken down into territories, the picture in the UK looks even more alarming. While international EBIT is expected to grow 6% to £33.6m, UK EBIT is forecast to drop 22% to £74.4m.
You certainly wouldn't envy Bucher's position next week when the market demands an explanation as to why Debenhams continues to underperform.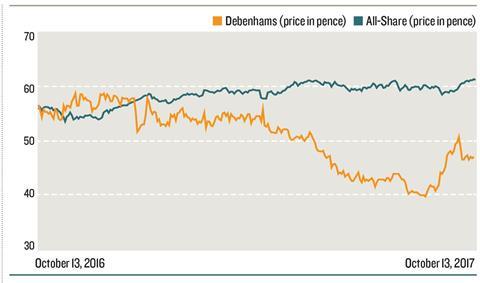 At the time of writing, its share price was still languishing around the 47p mark, down approximately 15% since Bucher's tenure began last October.
Sergio's grand plan
Considering its predicted performance, that share price is unlikely to rally this week. But the market, and indeed the rest of the industry, should bear in mind the scale of the transformation project Bucher has on his hands.
His grand plan is built around three business areas: fashion and home, beauty and beauty services, and food and events, each of which is being headed up by a member of the board.
Debenhams should reveal a little more detail around that strategy on Thursday. So far, the restructure has seen long-time trading director Suzanne Harlow depart as the reorganisation of the business left her role redundant.
A new senior leadership team member will be appointed "in due course" to lead the fashion and home division, Debenhams said in September.
There's no word on whether "due course" has been reached, but one thing's for sure: Bucher will need to secure an impressive hire to lead the fashion fightback against myriad competitors, as international players, etailers and value outfits get ever stronger while the mid-market suffers.
"It's the attitude as well as the numbers that are important here. Bucher is unprepared to accept mediocrity, even in a mid-table Stevenage store"
Meanwhile, Bucher and co have their hands full cutting 10% of stock options, ramping up efforts to close unprofitable stores and buying up stakes in ventures such as beauty services provider Blow.
A glimpse of Bucher's new 'social shopping' strategy is already evident in that most glamorous of locations, Stevenage, where, two months after joining, he ripped up the original plans for the store.
Stevenage is not billed as a "store of the future", but rather as an iteration of what Debenhams could be. According to broker Peel Hunt, management describes the store as halfway there, with many key initiatives still to be put in place.
Despite that, Stevenage, which was planned as a mid-table store, is now one of Debenhams' best-performing womenswear locations and a top 10 home store.
It's the attitude as well as the numbers that are important here. Bucher is unprepared to accept mediocrity, even in Stevenage.
That uncompromising stance is just what Debenhams needs to climb out of its current slump − but Bucher will need time to achieve his vision.