Debenhams boss Michael Sharp has dismissed suggestions that shareholder unrest sparked his impending exit from the retailer.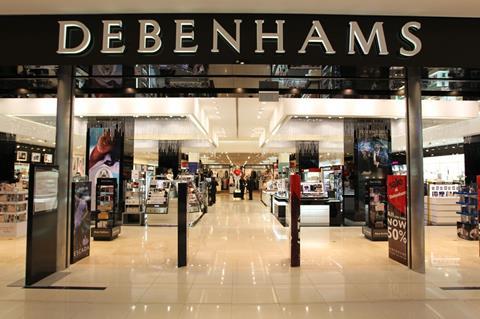 Sharp was in a bullish mood as he told journalists on a conference call that it "was always my plan" to step down after five years at the helm of the department store group.
Sharp's comments came less than an hour after he revealed his plans to quit in a statement published alongside the retailer's full-year results, which reported a 7.3% rise in pre-tax profits to £113.5m.
Reports have suggested that City stockbroking firm Cenkos Securities had been attempting to spark an investor rebellion to oust Sharp and chairman Nigel Northridge.
"We never said publicly that I would do five years, but that was always my plan and I'm sticking to my own plan."

Michael Sharp, Debenhams
A trio of key investors – Milestone Resources, Schroders and Old Mutual – are all believed to have teamed up with Cenkos. The groups hold around 25% of Debenhams issued share capital between them.
However, when asked to elaborate on the reasons behind the timing of his exit, the outgoing Debenhams boss insisted: "My intentions were always to do five years. I'm two months into my fifth year now and I have a 12-month notice period, so clearly I have to talk to the board about my intentions. That's exactly what I've done.
"We never said publicly that I would do five years, but that was always my plan and I'm sticking to my own plan.
"I feel very confident that Debenhams has a strong management team and the business is well-positioned to deliver against a strategy that is clearly working."
When pressed further on whether he had come under pressure from shareholders to quit, Sharp said: "I'm not going to say any more than what I've written down in the statement. There is nothing more to say on this."
Retaining focus
Sharp, whose resignation comes just days after the shock exit from Waitrose of managing director Mark Price, also refused to be drawn on his proudest moments at Debenhams and said he remained "very much focused on the business."
He added: "We'll leave any thoughts about my best achievements until I've actually resigned. This morning, all I'm doing is announcing an intention to step down in 2016.
"I'm still very much focused on the business and who knows, my best achievements may yet be ahead of me.
"Depending upon how the succession process goes, we'll see how long I'm in the role until I've fully settled in my successor. That's something I have every intention of doing to make sure there is a smooth transition."
Black Friday hopes
Looking ahead to the golden quarter, Sharp added that he expects "another good" Black Friday, which will not result in Debenhams having an additional day on promotion.
The retailer scaled back its promotional activity by 17 days in the year ending August 29, but Black Friday already falls into Debenhams existing five-day 'Big Gift' event.
Sharp said: "Black Friday, which is the last Friday at the end of November, already falls within an existing Debenhams promotional event. All we have done since Black Friday has become increasingly important is to capitalise on that existing event.
"For us it isn't an additional day on promotion and I think that's one of the reasons why we had a good day last year and why we anticipate that we will have another good one this year."