Waitrose and John Lewis recorded a sales surge for the week ending April 4 due to the earlier fall of Easter this year and warmer weather.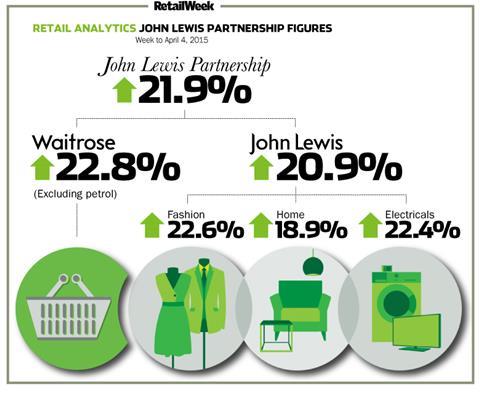 Waitrose's sales increased 22.8% year on year to £153.3m. Compared with the Easter week last year, which fell between April 13 and 19, sales were up 1.2%.
Easter confectionery sales rose 7% as sales of Heston's Waitrose Dark Chocolate Egg jumped 150%.
Waitrose also recorded its best ever Easter for non-food, which was up 16% on last year on the back of demand for Easter bonnets and plush toys.
Warm weather over Easter boosted sales of flowers and plants, which rose 32%.
Meanwhile, John Lewis also recorded a strong week as sales jumped by 20.9% to £85.3m compared with last year. Compared with the Easter week a year ago John Lewis said there was "good progress in all areas" as online sales increased by 28.2%.
Fashion achieved the highest year-on-year increase with 22.6% growth as menswear and sports had an "extremely strong result with Barbour and denim standing out".
John Lewis store development director Tim Harrison said: "The fall of Easter always requires a couple of weeks to assess our performance.
"We certainly did well last week and we now need to make the most of the remaining seasonal break. This requires us to be disciplined in our execution and maintain our commercial advantage."