John Lewis sales surged 15.6% last week boosted by its 150th anniversary celebrations, as it expects the present warmer weather to encourage sales growth.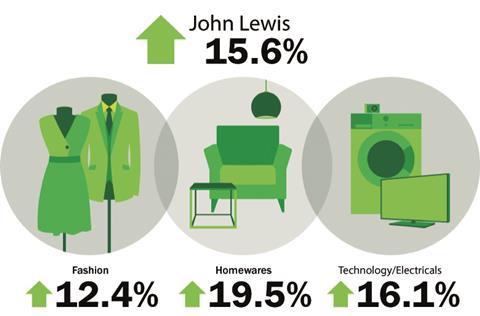 The department store retailer said for the week to May 10 it generated sales of £71.82m, as special collections and products went on sale to celebrate John Lewis turnng 150.
John Lewis's electrical and home technology sales jumped 16.1%. Electricals posted the largest growth on last year with audio and gaming up 58%, vision up 29.2% and small and large electrical both performing well.
Home sales advanced 19.5%. The star performer was furniture as fitted furniture recorded an 87.5% increase, bed and bedroom were up 44%, upholstery grew 46.4% and living and dining was up 24.7%. Cooking and dining, textiles and carpets, home accessories and gifts also experienced sales growth.
Fashion sales jumped 12.4%, driven by womenswear, which grew 16.1%.
Across the week John Lewis online sales soared 28.1% year on year with its click-and-collect facility up 60%.
John Lewis director of selling for London and South David Barford said: "Looking ahead, this weekend promises to be warmer, putting us in a good place to maximise our summer assortments with customers beginning to focus on outdoor activities."
Supermarket Waitrose - which is owned by the John Lewis Partnerhship - recorded sales, excluding petrol, up 5.8% last week to £122.8m.
Waitrose said winners in the Eurovision song contest, which took place last weekend, mirrored wine sales with Austrian wine the top performer across the wine category after Austria won the contest. Austrian wines surged 390% in the week. The next-best performing countries were Portugal, which recorded a 163% increase in wine from the country, and England and Wales, posting wine sales growth of 144%. The rises may also have been due to the launch of Waitrose's dedicated online wine site Waitrose Cellar
Party snacks also performed well, as shoppers bought 18% more tortilla crisps, 37% more dips and 20% more mini pizzas.
Because it was a cooler week than the same time last year, sales of warming food increased and shoppers bought 13% more soups, 15% more frozen chips and 34% more pasta and pasta sauces.