House of Fraser chief executive John King is stepping down after eight years to be succeeded by chief operating officer Nigel Oddy.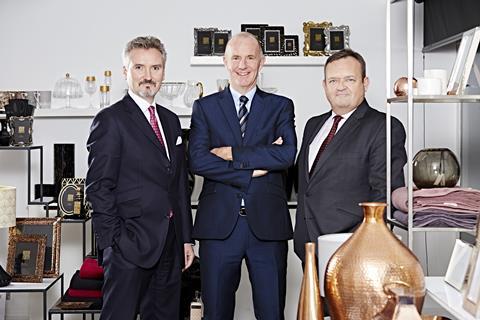 King will remain as a non-executive director on the board to provide guidance on strategy and ensure a smooth transition.
King said: "When I joined the business in 2006, we set out to create the UK and Ireland's premium department store group, and also worked to develop a strong multi-channel and premium branded offering. House of Fraser is now a much stronger business and is well positioned to enter the next exciting stage of its development as we look to build the brand internationally.
"I believe now is the right time to hand over the reins to Nigel, with whom I have worked closely over the last eight years. Nigel is the right person to lead House of Fraser into its next phase of growth."
King is stepping down as House of Fraser prepares to open up to 50 department stores in China after being acquired for £480m by China's Sanpower group.
Oddy said: "We have already agreed locations to expand the brand in China, with three stores due to open over the next two years, and plan to open further new stores in the Middle East with our franchise partner Retail Arabia. In addition, we will continue to focus on our strategic pillars to enhance our premium department store positioning."
The succession plan involves a raft of other changes at the department stores as it makes a series of promotions.
Executive director of retail operations Peter Gross will replace Oddy as chief operating officer, while multichannel director Andy Harding is being promoted to chief customer officer.
Executive director menswear and childrenswear Jackie Hay will become executive director of apparel and accessories, director of finance Ray Kavanagh is promoted to executive director of commercial, executive director of home and food Ysanne Jenkins will take on the role of executive director of home beauty and food, while logistics director Tony Carr is promoted to executive director of international development and logistics.
Who is Nigel Oddy?
Oddy spent his first 23 years in retail at Marks & Spencer where he specialised in store management, buying and merchandising, as well as running M&S in Hong Kong. He then worked as the managing director in a family-run furniture business during which time he won the North East Businessman of the year.
After a stint at US private equity investor SB Capital, he joined House of Fraser after it was taken over by Highland Consortium in 2007. Oddy started out as director of home and hospitality, and then took over responsibility for merchandising, store development, marketing, planning and trading, as well as international.
He was appointed chief operating officer of the retailer in 2013, and alongside King and the chief financial officer, he completed the takeover of House of Fraser by Sanpower in September 2014.
Oddy is a bit of a sports fanatic, running 70km a week and completing a marathon in 2 hours 32 mins.
Analysis: What can be learned from the exodus of chief executives?
1

2

3

4

Currently reading

House of Fraser boss John King steps down after eight years at helm