John Lewis Partnership is to unveil a major rebrand as it bids to emphasise its unique status, Retail Week understands.
The group will rebadge its department store and grocery arms to John Lewis & Partners and Waitrose & Partners.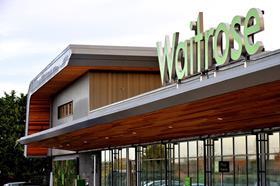 The change will see it capitalise on its mutual structure as the reputation of big business suffers following high-profile controversies that have engulfed companies ranging from Carillion to BHS.
The partnerships will also adopt a new black and white colour scheme across the two fasciae, scrapping John Lewis' bottle green and white palette and Waitrose's lime and grey colour scheme.
JLP is set to unveil its strategy for the next decade later this week.
The company said in a statement: "Like any business, we always keep our branding and marketing under review. We don't comment on speculation about how this may or may not evolve."
Despite much of its department store competition suffering substantial setbacks – with House of Fraser launching a major CVA and Debenhams issuing multiple profit warnings – John Lewis' market-leading position has come under pressure due to the tough consumer environment and structural changes across the industry.
Waitrose's profitability has plunged as its margins have suffered due to a combination of Brexit vote-related inflation and higher staffing costs due to the higher national minimum wage and apprenticeship levy.
JLP has already scaled back store opening plans across both its department store and grocery arms and has upped its focus on productivity in an attempt to lessen the impact on its traditionally expensive partnership model.
Its pre-tax profits were down 77% to £103.9m in the year to January 27, 2018. Before partnership bonus and exceptional items they dropped 21.9% to £289.2m.
The partnership bonus stood at 5%, the lowest level since 1954 when it was 4%.
Total sales across the partnership rose 2% to £11.597bn, with Waitrose generating a 1.8% rise to £6.753bn and John Lewis contributing a 2.2% rise to £4.844bn.
Much of the sales growth came from new stores and online. On a like-for-like basis, Waitrose sales rose 0.9% and John Lewis sales rose 0.4%.