After several tough years the retailer's new chief executive is trying to get sales moving.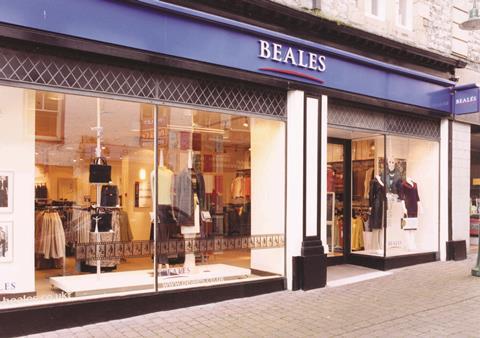 Department store business Beales has experienced one of the biggest periods of change in its 133-year history in recent times as its store estate grew, management switched and finances were strengthened.
The departure of chief executive Tony Brown to become managing director of Peacocks earlier this year after five years at the helm proved a surprise. Brown, formerly retail director of BHS, had guided the retailer through transition after taking over from predecessor Allan Allkins and reducing losses by cost cutting.
Michael Hitchcock, who was drafted in last year as interim finance director following the departure of Ken Owst, has now taken the reins at Beales and is charged with the task of getting the retailer's sales moving.
Like-for-likes fell 5.6% in the year to October 2012 because of overexposure to the electricals category, and the retailer said trading had "remained challenging" in the first 19 weeks of 2012/13.
Like-for-like sales including concessions and VAT were down 6.3% in the latter period and the decline was attributed to severe weather, while an exit from TV and audio also had an effect.
The retailer's scale was dramatically increased following the acquisition of 19 stores from the Anglia Regional Co-operative Society (ARCS) in 2011. The purchase, which more than doubled the retailer's store count and doubled trading space to just over 1 million sq ft, swelled gross sales 22.5% to £113.3m last year.
The deal with Peterborough-based ARCS represented the largest in a series of purchases that enabled Beales to increase its store count and coverage progressively over more than a century.
However, the increase in scale has yet to have a significant impact on profits. The retailer's exposure to low-margin electricals dented performance leading to the paring back of the number of products in that category.
Beales' product range had steadily broadened to encompass toys and games, fabric, homewares,
stationery and fashion, and it repositioned its offer towards younger customers in the early 2000s. The retailer has also made use of its website to develop online shop-in-shops such as its Holiday Shop, but online remains a small part of its turnover.
Beales floated on the London Stock Exchange in 1995 and pulled off a refinancing earlier this year. The retailer refinanced its debt with asset-backed lender Burdale, securing its funding for the next three years.
While its previous revolving credit facility with HSBC should have seen it through the present tough trading conditions, restrictive covenant levels and weak trading from summer 2012 meant it had come under increased scrutiny from its lenders.
The company has had a number of significant changes in shareholders in its recent history. In 2000, a subsidiary of department store group Hoopers took a 24.7% stake before property investor Andrew Perloff made a failed tender offer for 4.5 million Beales shares in 2008.
However, two years later Perloff was successful in acquiring 29.7% of Beales' shares through his Panther Securities property vehicle. He remains the largest shareholder, while investment firms Henderson Global Investors and Miton Group both have substantial stakes.
Beales has a rich heritage. Its flagship store in Bournemouth, which is the largest department store in Dorset, was established as Fancy Fair by John Elmes Beale. A merchant and politician, he was mayor of Bournemouth for three years, guided the company through its formative years and the First World War before dying aged 80 in 1928.
A century later, Hitchcock is tasked with creating the kind of compelling shopping experience for customers that his namesake masterminded in cinema.
There is lots to do. Like-for-likes have been negative since 2002 and the continued flat economy led the retailer this week to earmark its store in Maidstone, Kent, for closure in June.
The bottom line
Turnover £113.3m (gross sales ex-VAT) in the 53 weeks to November 3, 2012
Profits Pre-tax loss of £5.8m in 53 weeks to November 3, 2012
Chief executive Michael Hitchcock
Substantial shareholders Andrew Perloff, Henderson Global Investors, Miton Group, Lawdene, Nigel Beale and Anthony Lowrey