Consumer confidence in the UK has increased for the sixth consecutive quarter, overtaking the global average for the first time since 2006.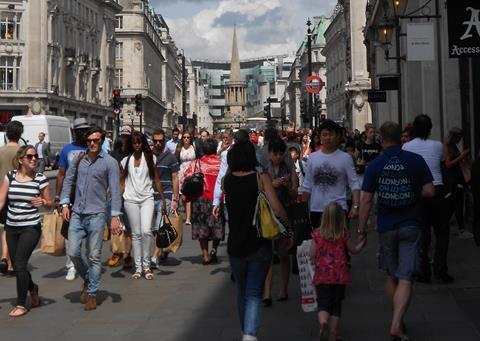 UK surpasses consumer confidence in Germany for first time in five years
Global confidence falls compared with first quarter of 2015
UK is now second most confident in Europe
Nielsen's latest quarterly Consumer Confidence Index revealed that consumers' positivity about job prospects and personal finances was at its highest level since before the financial crisis hit in 2008.
The UK Consumer Confidence Index edged up from 97 in the first quarter of 2015 to 99 in the second quarter, while the global level fell from 97 to 96.
The last time the UK index was higher than the global average was in the first quarter of 2006, when Tony Blair was in his third term as Prime Minister.
The research also found that consumer confidence in the UK had surpassed Germany for the first time in more than five years, with the UK now ranking as the second most confident nation in Europe, behind Denmark.
Change in shopping habits
The research also noted that the number of UK consumers switching to cheaper grocery brands in order to save money was at its lowest level (30%) since late 2009. Nielsen UK & Ireland managing director Steve Smith said: "This is an encouraging sign for retailers that consumer purse-strings may be starting to loosen."
Smith said several factors had helped consumers in the UK feel more confident. "Wage inflation is starting to outstrip price inflation for the first time in years, while mortgage rates are at historically low levels and unemployment has generally been falling."
The figures showed that Greece recorded the largest quarterly decrease in confidence among the 60 countries – down 12 index points to 53.