Retailers will receive a £80m spending boost from the birth of Princess Charlotte as consumers splash out on souvenirs, food and drink.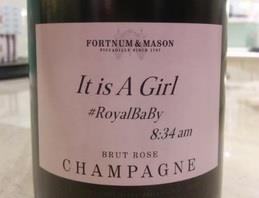 The Centre for Retail Research forecasts most of the spend will be on drink, but will be significantly less than the £247m it estimated was spent celebrating of the birth Prince George two years ago.
It is believed this time consumers will spend £28m on drink, £27m on souvenirs and £25m on food.
The centre's research found around 15% of consumers questioned expected to mark the birth in some way. For example, by buying a souvenir or throwing a celebratory event.
Professor Joshua Bamfield, the centre's director, believes that because the new baby is a girl the longer-term implications for the UK babywear, childrenswear, teens and fashion business could be worth £150m a year.
That is because what new baby wears will be studied and emulated by parents all over the world, but is reliant on "British designers rising to the opportunity".