UK retail like-for-like sales edged up 0.1% in February
Valentine's Day gifting boosted like-for-like jewellery and stationery purchases
Furniture and home accessories drove like-for-like growth
Retail like-for-likes rose 0.1% in February as big-ticket purchases continued to drive growth while food and fashion purchases declined.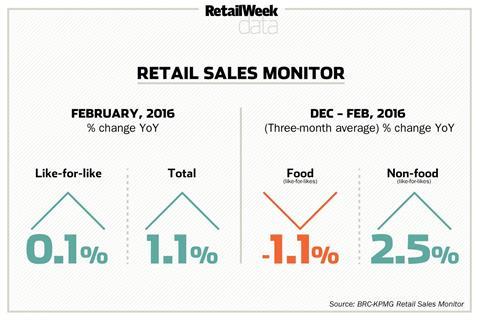 Total industry sales were up 1.1% in the four weeks to February 27, according to the BRC-KPMG Retail Sales Monitor.
That represented a dip compared to the same period last year, when total sales rose 1.7% and like-for-likes advanced 0.2%.
According to the monitor, the uplift in like-for-like sales was driven by big-ticket purchases in the furniture and home accessories sector.
Valentine's Day also drove increased like-for-likes in jewellery, stationery and health and beauty items, as non-food sales rose 2.5% on a like-for-like basis.
However, that growth was offset by declines in food, clothing and footwear sales, with food like-for-likes slipping 1.1%.
Online non-food sales grew 10.7% in February, compared to a rise of 8.3% the previous year.
KPMG UK head of retail David McCorquodale said: "The home and heart drove February's sales growth as home improvement and Valentine's Day campaigns brought their rewards.
"Furniture was once again the strongest category, helped by a buoyant housing market and promotional activity by retailers in the sector.
"Unfortunately the 'Valentine's effect' did not rub off on food and drinks sales, which declined for the second month of the year."