Like-for-like sales increased 1.1%
Total sales were up 1.9%
On a three-month basis total retail sales rose 1.1%
Retail sales rebounded in July as promotional activity drove performance across the industry in the first full month since the EU referendum.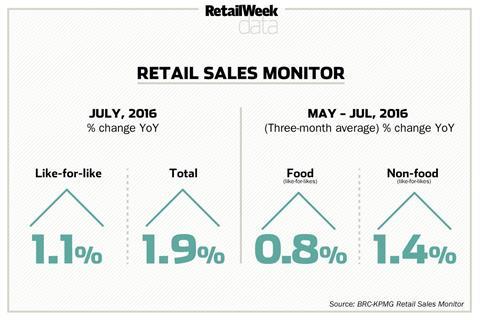 During the four weeks to July 30, like-for-like retail sales jumped 1.1% and total sales climbed 1.9% - their strongest performance since January – according to the BRC-KPMG retail sales monitor.
Total sales were up 1.1% on a three-month basis, driven by a 1.4% uplift in non-food sales.
After several months of falling sales, fashion recovered during the period, but there was heavy discounting.
Jewellery and watches and household appliances also sold well on a like-for-like and total sales basis last month.
Promotion-driven
BRC chief executive Helen Dickinson said the extent of discounting presented a challenge to retailers to continue increasing revenues outside of a Sales period.
"The big question for retailers is whether that success can be carried forward into full-price sales," she said.
"Whilst retailers continue to monitor the situation in the wake of Brexit, responding to rapid and complex change in consumer behaviour in the midst of a highly competitive market remains the substantive challenge."
Warm weather last month also drove up purchases of picnic food and soft fruits, causing food sales overall to rise 0.8% on a three-month basis and record its best performance since November 2013, excluding Easter distortions.
KPMG head of retail David McCorquodale said: "This first full month of retail sales figures post-vote suggests that UK shopping patterns haven't changed versus previous years.
"For retailers, plans to improve productivity remain top of mind to guard against recent increases to their cost base as well as making sure they can weather what are likely to be more uncertain times ahead."
IGD's chief executive Joanne Denney-Finch said: "Given the sharp drop in food and drink spending in the immediate aftermath of the referendum, a return to sales growth during July was very encouraging.
"The next few months' sales figures will hinge largely on whether we see the return of food inflation, following the drop in sterling. If so, this is likely to be a gradual effect."