Retail footfall in August up 0.1% overall
High street footfall increased 1.1%
Shopping centre footfall dropped 1.9%
Footfall was up 0.1% last month as rising high-street and retail-park numbers offset a slump in shopping centre customers.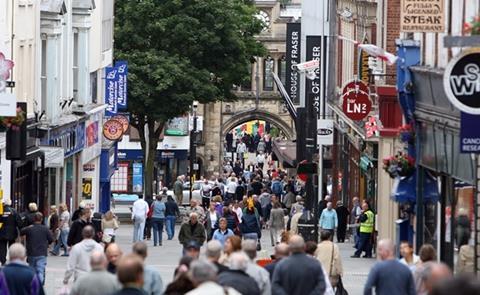 Town centres enjoyed rising shopping numbers in August as footfall on high-streets rose 1.1%, recording the stronger growth than retail parks and shopping centres for the second consecutive month.
According to data from the British Retail Consortium and intelligence firm Springboard, footfall also rose across retail parks, up 0.4% year-on-year.
In contrast, shopping-centre footfall continued to decline, down 1.9% during the period following a 2% slump in July.
Sunshine footfall
Springboard marketing and insights director Diane Wehrle noted that summer tourism and good weather during the month contributed to rising shopping numbers.
She said: "Driving the overall rise on the high-street is an increase in footfall post 5pm, which highlights the growing evening economy based on leisure activities – hospitality, food and beverage trips – and is a result of a markedly improved and expanded offering by shopping destinations.
"August saw an influx of tourists and a return of the staycation in the UK as 5.1 million Brits decided to holiday at home over the bank holiday weekend."
Lure of diversified offer
BRC chief executive Helen Dickinson said that diversifying the offer on high-streets was likely to have lured more shoppers into town centres, as they enjoyed rising footfall against a backdrop of falling retail sales.
"This suggests that people are being drawn to the high-streets for reasons other than to shop – perhaps because many are now doing a better job of providing a mixed offer and are no longer solely retail destinations," she said.
While footfall was up overall in August, it was down 1.2% on a three-month basis.
"It's also only the third time this year that overall footfall has increased," added Dickinson.
"So, while these figures will give retailers some cheer, they'll only be cautiously optimistic for the months ahead.