Sales at John Lewis and Waitrose rose last week after sunny weather helped seasonal goods fly off the shelves at both retailers.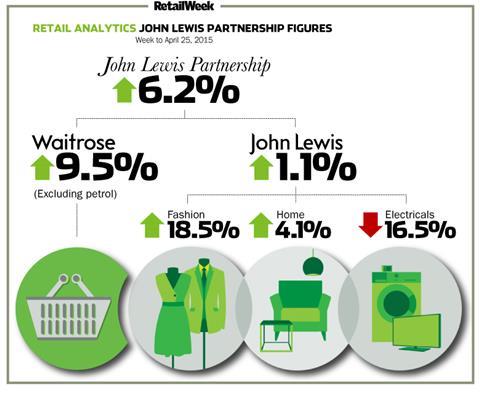 Alfresco dining options drive Waitrose sales up 9.5%
John Lewis sales boosted by womenswear, accessories and swimwear
Bosses target sales momentum during bank holiday weekend
But the John Lewis Partnership admitted that figures were distorted by an additional day of sales against a comparative week that included Easter Sunday last year.
Waitrose sales jumped 9.5% excluding fuel to £123.56m, driven by shoppers snapping up "alfresco dining" options.
Unseasonably warm weather during the week ending April 25 drove up sales of charcoal for barbecues 54%, while picnicware and lunch boxes soared 67% during the period.
Waitrose's 'food to go' range including sandwiches, sushi and salads had its biggest ever week of sales, up 39% on the year, as shoppers ate on the move to make the most of the warmer weather.
Sales of garden accessories rose 62%, while sales of fruit and frozen fruit increased 35% and 55% respectively.
The weather also had a positive impact on sales at John Lewis, which increased 1.1% on the year to £73.12m.
Fashion sales rose 18.5%, as customers stocked up their summer wardrobes. Women's accessories and beauty recorded a 27% uplift in sales, with womenswear up 21% on last year.
Swimwear and nightwear jumped 32%, while sales of women's shoes rose 22%.
John Lewis head of selling at home Liz Mihell said: "With the weather seemingly set to fair for the time being we have a fantastic opportunity to showcase summer. This weekend's bank holiday will be the start of the summer for many and we are ready to make it easy and stylish for our customers."