High streets suffered a bank holiday washout as heavy rain drove customers into shopping centres and retail parks during the extended weekend.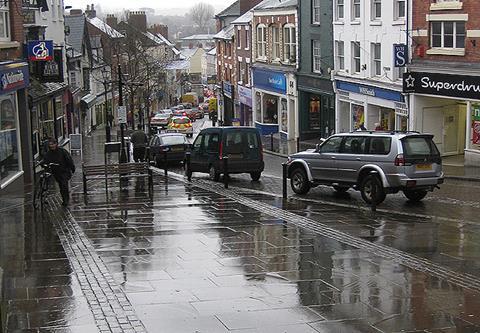 Shoppers driven to retail parks and shopping centres on Sunday
High street footfall dropped 4.1% on Sunday and 0.1% across the weekend
Traffic at retail parks rose 8.5% between Saturday and Monday
Shopping centre footfall jumped 11% on Sunday and 6.2% across the weekend
Footfall dropped 4.1% on high streets on Sunday compared with the same date last year, while shopper numbers soared 11% at shopping centres as consumers fled for cover.
According to figures revealed by Springboard, shopping centre footfall rose 6.2% across the three-day weekend.
Retail parks were the big winners from the wet weather with traffic jumping 8.5% between Saturday and Monday.
Despite poor performance on Sunday, high street stores experienced a 3.4% jump in shopper numbers on Saturday, but still suffered a 0.1% dip in footfall across the weekend as a whole.
But average footfall across shopping centres, high streets and retail parks rose by 3.4% overall, compared with a 5.4% decline during last year's August bank holiday weekend.
Springboard insights director Diane Wehrle said: "There is much evidence to say that consumer confidence is at a high and it certainly shows in the strong footfall figures seen over the bank holiday weekend.

"Favourable inflation rates, low unemployment and UK-wide pay rises are enabling shoppers to spend in comfort and they were out in force across UK shopping centres and retail parks this weekend, enjoying the benefit of the August payday falling before the long weekend and just in time ahead of the new school term."