The British Retail Consortium's (BRC) latest employment figures expose another quarterly decline in retail jobs – and imply the downward trend is set to continue.
Although a bumper late Easter boosted working hours in the most recent quarter, still the number of equivalent full-time jobs fell 3.3%.
According to BRC chief executive Helen Dickinson there are myriad forces at play.
Tricky backdrop with more to follow
Firstly, retailers are being forced to cut back on staff numbers as government policies increase the cost of employing people.
External factors such as the new national living wage, the apprenticeship levy and inflation putting the squeeze on consumers' spending power have contributed to 69% of retailers cutting back on hours in the three months to June 30.
Additionally technology is changing the requirements for employment in the sector.
This combination of pressures have led to 15% of retailers surveyed – particularly non-food retailers – to predict a further reduction in working hours in the next quarter.
Sizeable job cuts have already been made by the likes of Tesco, Boots, M&S and John Lewis, to name but a few.
In the same quarter last year, retailers weren't expecting to slash staff numbers.
Fast forward 12 months and 15% of retailers now say they expect to reduce headcounts in the coming quarter.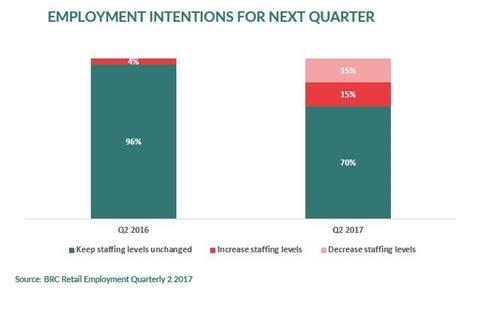 Physical store growth
However, the picture varies quite considerbly across the spectrum of retailers.
While the majority of respondents reported a year-on-year drop in hours last quarter, 31% increased the number of hours worked.
The likes of Amazon, Ikea and fledgling UK DIY retailer Bunnings are hiring new staff in bulk.
Discounters and value retailers in particular, such as Aldi, Lidl, B&M and Card Factory, are opening physical stores at a rapid pace and hiring hundreds of additional staff to operate them.
What's more, while the shift to shopping online continues, pureplay retailers are increasingly moving into bricks-and-mortar retailing to keep store numbers growing steadily.
Consequently, store numbers grew 3.6% during the second quarter of 2017 compared to the same period last year, and were up 11.5% on quarter one.
As shown here, the rate at which retailers are opening stores has grown at the same rate for about a year.
Seemingly, it has not been knocked by the fall in full-time earnings growth.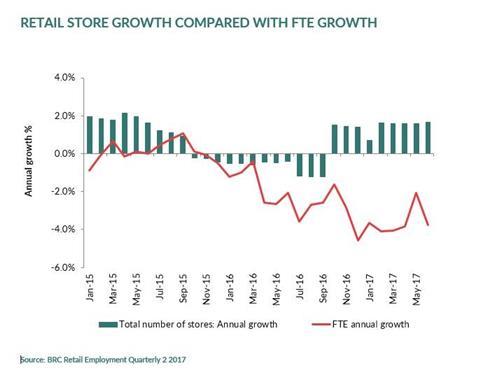 So while some retailers are preparing to make the cut backs the BRC talked about in its 'fewer but more productive jobs' thesis, it's not all doom and gloom.
As factors such as the national living wage cause retailers to make cuts, it should also drive the shift towards "better" jobs across the industry.
The BRC is hopeful that a reduction in employment hours will be married with heightened job satisfaction and opportunities for progression, as per its Retail 2020 vision.