Discount duo Aldi and Lidl will wrestle control of almost one fifth of grocery spend in the next five years, according to Retail Week data.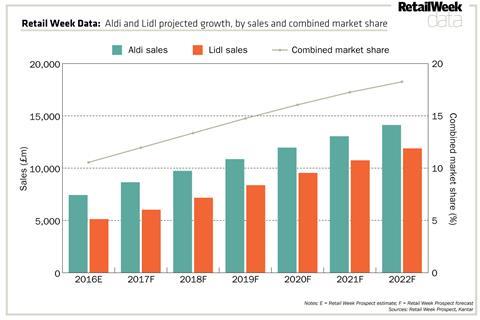 The German grocers will account for 18.3% of the food retail market by 2022 as they continue their assault on the UK, forecasts from Retail Week Prospect analysts suggest.
Averaging out Kantar Worldpanel data over the past year, Aldi held 6.9% of the market in 2017, while Lidl boasted a 5.1% share, still some way adrift of the smallest big four member Morrisons on 10.4%.
But their combined 12% share of the market is expected to swell by a further 50%, driven by the impact of new store openings.
Aldi has laid out plans to grow its store estate to 1,000 by 2022, while Lidl wants to open at least one new supermarket every week between now and the end of 2019.
"A market share of 30% is broadly what Tesco achieves at the moment, however it does this with 40m sq ft of retail space"

Philip Wiggenraad, Retail Week Prospect
Retail Week Prospect forecasts that their expansion plans and like-for-like sales growth will spark a surge in revenues for both discounters in the next five years.
Aldi's sales will hit an estimated £14.1bn in 2022, Prospect data suggests, while Lidl's UK revenues will reach £11.9bn.
Retail Week Prospect head of research Philip Wiggenraad believes that, by 2022, Aldi and Lidl will be rapidly approaching their "natural ceiling" and won't be able to gobble up the levels of share they have achieved in some mainland European markets.
"A market share of 30% is broadly what Tesco achieves at the moment, however it does this with 40m sq ft of retail space," Wiggenraad explains.
"As a comparison, both Aldi and Lidl's sales area currently stands at around 6m sq ft each. So even taking into account the discounters' higher sales densities, it will take massive investment in new stores to reach such a level.
"Reaching the 30% mark or higher as they've done in other European countries seems unlikely, unless there is some significant underperformance among the big four, or through an acquisition.
"So there will probably be a natural ceiling of 20% at most."
Methodology
Retail Week Prospect has forecast Aldi and Lidl's sales by taking into account their expansion plans and the growth in average sales per outlet they have achieved in the UK to-date.
The estimates assume that the discounters' growth will slow in the coming years as comparatives become tougher and they become more reliant on new stores to generate overall sales growth.
Their market shares have then been calculated based on our forecast for the food retailing market over the coming years.