The UK economy may have shown more resilience than predicted, but Philip Wiggenraad discovers that the impact of Brexit cannot be brushed off that easily.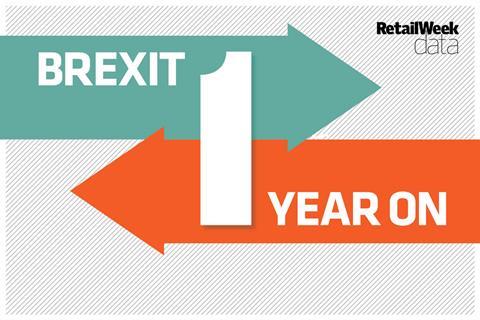 Sterling takes a pounding
If there's one area where Brexit has undeniably had an impact, it is in the value of the pound.
Sterling nosedived by 10% against the dollar the day after the referendum and it has since fluctuated between $1.20 and $1.30 – significantly below its value in the months leading up to the vote.
With UK retailers relying on overseas markets for much of their sourcing, this is having a knock-on effect on their cost base – particularly now that many pre-Brexit currency hedges are coming to their end.
Retailers appear unwilling to absorb increased import costs as evidenced by the inflation rate soaring to a four-year high of 2.9% in May.
This rate is already higher than the Bank of England's forecast for the end of the year and it doesn't expect the import price shock to pass until well into 2018, so more pain is to be expected for consumers.
With wage growth failing to keep track, retailers will be concerned about how squeezed incomes will impact on retail spending.
Footfall under pressure
Footfall has generally been in negative territory since the referendum, but this appears to be mainly due to wider trends in the retail sector rather than Brexit.
Springboard marketing and insights director Diane Wehrle says: "In June last year there was a sharp drop in footfall, which was unusual – but then it recovered very quickly."
For years footfall has been affected by the shift towards online retailing, but retail is also facing stiff competition from leisure activities. Wehrle says: "People are more prepared to put money towards leisure than products."
But as the Brexit negotiations continue, footfall could actually receive a boost from the weaker pound – particularly as London, which generates the highest level of footfall in the country, has already seen an influx of bargain-hunting tourists.
Coastal towns and historic towns could also benefit from a resurgence in 'staycations' as inflation starts to bite for UK consumers.
Wehrle adds that it will be interesting to see if the shift towards leisure spending continues, particularly as she believes that leisure operators will soon need to start raising their prices in response to inflationary pressures, such as the national living wage.
Negative consumer confidence
While the footfall data shows no conclusive Brexit effect, consumer confidence has most definitely been impacted.
GfK's Consumer Confidence Barometer showed the sharpest fall in 21 years directly after the vote as the majority of consumers expected the general economic situation to deteriorate over the year ahead.
Consumer confidence had in fact already turned negative a few months ahead of the referendum and has remained in the red since.
Context is important though. The latest figure of -5 in May 2017, compares to values below -35 during the depths of the financial crisis in 2008.
Commenting on the latest data, Joe Staton, head of market dynamics at GfK, said: "Although the overall index score is bumping along in negative territory, we haven't seen any significant fall of the kind we might expect during such periods of pre-election and pre-Brexit uncertainty.
"Perhaps the real squeeze in living standards is yet to hit home."
Non-food is bearing the brunt
Fears about the future direction of the economy generally have a disproportionate effect on retailers that sell big-ticket items such as furniture and this appears be playing out.
DFS, for instance, issued a profit warning this month as it noted that the trading climate had deteriorated, with increased uncertainty having led to "a material reduction in customer orders".
Indeed, data provided by the BRC backs up that the referendum has impacted on the food and non-food sectors in different ways.
Rachel Lund, head of retail insight and analytics at the BRC, says: "Brexit is having an increasing impact on consumers through the depreciation of the pound.
"Although shoppers were initially shielded from rising input costs due to hedging and stock cycles, from the beginning of 2017 shop prices have embarked on an upward march."
This increased inflation – combined with weak wage growth – means that shoppers have become more cautious about their spending.
Lund says: "This squeeze has not affected all consumers in the same way. Despite some room for behaviour change, the fact is that families still need to buy food.
"As a result it is discretionary non-food spending that has really felt the brunt of rising prices."
How long this will stay this way remains to be seen. But it is clear that the consumer outlook will remain uncertain over the coming two years of Brexit negotiations, which will present considerable challenges for the UK retail sector.