End of season promotions helped edge up like-for-like sales in January, although discounting across Black Friday and Christmas softened sales as stock ran low.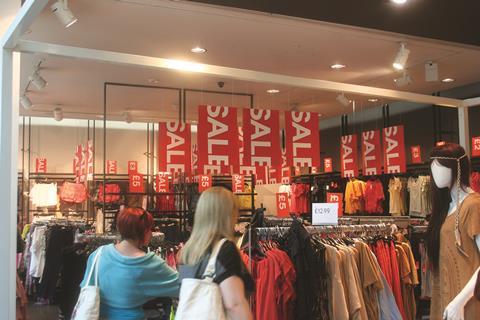 Food – up
The adage in food was "healthy eating", with more fruit and vegetables on offer, as well as healthy snacks. When food deflation was taken into account, the three-month average turned to growth for the first time since September 2013, at 0.4%. Growth means the gap between the performance of food and non-food is narrowing again.
Clothing – up
Clothing sales were boosted by the seasonal markdowns coinciding with colder weather. However, sales only told part of the story, the other part being the discounting strategy, which varied among retailers.
Retailers who discounted all the way from Black Friday to after Christmas, entered the January sales with low stock and availability. This was the case for many women's lines, which led to womenswear being the weakest of the three segments.
Menswear performed best but was also discounted while childrenswear was generally said to have held up at full price. Retailers who resisted discounting their coats and knitwear were pleased with their January performance, both their sales and margins.
Footwear – up
Footwear performed less well than clothing as shoppers felt less inclined to spend on higher ticket items like branded boots at the end of the season. Childrenswear was the best-performing segment even though the majority of products were being sold at full price. However, online bargains did help boost the category.
Health & Beauty – up
Health and beauty maintained its momentum into January as gift sets left over from Christmas went on sale. Nevertheless, retailers reported that the growth from full-price items was the main driver.
An increase in the amount of colds across Britain resulted in a strong demand for medicines. Beauty products outperformed health products, while ethnic hair care products were cited as good performers as the cold weather resulted in a poor demand for sun and bronzing cosmetics.
Furniture – up
Furniture recorded a solid performance in its key month despite a tough comparable for the previous year. Bedroom furniture proved particularly popular as the public's desire for big-ticket purchases hit its highest level since the recession.
Toy and baby equipment – up
Toys and baby equipment was the best performing category this month – in stores as well as online – as a combination of sales on toys and good demand for nursery products propelled growth.
Jewellery and watches – up
The seasonality of jewellery and watches was exacerbated this season as it posted modest growth after a stellar performance in November and December.
Other non-food (Electricals, leisure goods, DIY and gardening) – down
Computer and tablet sales were disappointing while sound systems and TVs suffered from continuing expectations of low prices in the aftermath of the Black Friday deals.
Physical books showed positive growth again for the second month in a row, helped by children's books. Although there were a number of successful DVD releases during the month, streaming continues to take its toll on the category. With the weather this January broadly similar this time last year, DIY and gardening put in a solid performance.