From Brexit concerns to coronavirus and climate change, consumers have a rising sense of anxiety. How can retailers capitalise on the power of fear?
According to global trends analyst WGSN, 'the fear factor' is a defining trend that will impact the mood and shopping habits of consumers around the world this year.
In RWRC's new report The Retail Year, WGSN's insight retail editor Laura Saunter says: "Fear is rising globally, driven by violence, political corruption, government uncertainty and climate concerns.
"With rates of depression and anxiety at crisis levels, consumer mindsets are shifting to prioritise physical and emotional safety. This will require brands and retailers to reinforce a sense of security and calm."
While the marketing power of fear is not a new concept, in 2020 this trend is expected to intensify thanks to the sheer number of anxieties mounting on a global scale.
Fears mounting
From the coronavirus emergency dominating headlines to economic and political concerns surrounding Brexit, there are plenty of reasons for consumers to be fearful in 2020.
Coronavirus
The escalation of the severity of coronavirus could have a detrimental impact on global tourism and airport passenger numbers.
Major airlines such as British Airways have suspended all flights to mainland China; retailers such as Ikea, Starbucks and Pandora have closed stores in the country; and Chinese residents are being encouraged, and in some cases forced, to stay home and avoid travel.
GlobalData principal analyst Honor Strachan has referenced the earlier SARS virus epidemic as a potential indicator of what's to come.
"In 2003, SARS caused tourism spend in China to collapse while visitor numbers to Thailand, Malaysia, Singapore and Hong Kong significantly dropped off. While this recent coronavirus outbreak cannot yet be compared to the impact of SARS, if it continues to spread globally over the course of 2020 its impact on tourism and economies, particularly across APAC, could be severe."
Brexit
Brexit is a divisive subject and, although consumer confidence as a whole rose ahead of January 31, some people are feeling very anxious about the political and social landscape.
EU citizens are displaying post-Brexit fears; Google's search data shows that in the 30 days up to January 31 there was a noticeable spike among those in the UK looking online for information related to immigration and citizenship.
Rising tensions between the US and Iran
The US and Iran's recent actions have caused fears to grow globally about the likelihood of a war. The phrase 'World War Three' has been trending on Twitter and Google.
On January 3, President Donald Trump sanctioned a US drone strike which killed Iranian general Qassem Soleimani – triggering outrage and pledges of retaliation from Iran. World leaders called for de-escalations following the assassination, but Iran responded on January 8 with 20 rockets hitting US bases in Iraq.
While Iran has since said it doesn't want war and its retaliation for the general's killing is "now over", the move has led to concerns that another conflict could be on the horizon.
Mental health concerns
The Organisation for Economic Co-operation and Development's (OECD) latest report shows the whole of Europe is struggling with the burden of mental health issues – now impacting an estimated 84 million people or one in six.
In the UK, mental health is costing the economy more than £94bn every year, counting treatment, social support costs, and indirect costs related to lower employment and productivity (these latter factors amount to £42bn alone).
Eco-anxiety
A new set of fears are also emerging based around eco-anxiety – a chronic feeling of worry about the implications of global warming. The term is described by Psychology Today as "a fairly recent psychological disorder afflicting an increasing number of individuals who worry about the environmental crisis".
While stats aren't available on the prevalence of eco-anxiety, some experts have highlighted an increase in public anxiety around climate change. College of Wooster, Ohio, professor of psychology and environmental studies Susan Clayton co-authored a 2017 report titled Mental Health and Our Changing Climate: Impacts, Implications, and Guidance.
In the report, Clayton writes: "We can say that a significant proportion of people are experiencing stress and worry about the potential impacts of climate change, and that the level of worry is almost certainly increasing."
Safe spaces
As tensions rise, business can buck the fear factor trend by creating safe spaces that enable community connections and problem-solving.
Marks & Spencer is one retailer that has embraced such thinking. It partnered with comedian and mental health campaigner Ruby Wax in 2017 to open Frazzled Cafes in 11 of its stores. The cafés host fortnightly community meetings where people who are feeling 'frazzled' can meet in what M&S describes as a "safe, anonymous and non-judgemental environment".
The meetings, which take place after hours and are led by trained volunteer facilitators, are not therapy but a space where people can talk openly with others who understand how they are feeling. As M&S puts it: "A place where it's OK, to not be OK."
When the initiative launched, M&S retail, operations and property director Sacha Berendji said: "Ruby's Frazzled Cafe is a simple, pressure-free way of tackling what can be a taboo subject – feeling stressed.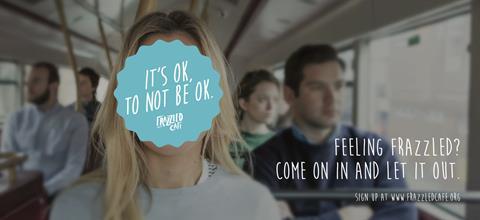 "We hope that by providing free and calm venues after the cafe has closed, we can help any members of the community who simply need to talk about things and what's happening in their lives."
M&S is not alone in promoting self-care. Topshop and Topman have partnered with mental health charity Campaign Against Living Miserably (CALM) to launch a clothing collection that encourages people to share their problems and to call CALM's helpline if they're "feeling completely spun out".
Meanwhile, in the US, Walgreens Boots Alliance introduced mental health first aid training for its pharmacists in 2019 in collaboration with the National Council for Behavioural Health and the American Pharmacists Association.
Stress-free shopping
With anxiety and mental health problems at crisis levels, Saunter believes the biggest business opportunity for retailers lies in shopping environs: "As we start to embrace fear, emerging strategies towards fear-factor engagement will uptick. Stress-free shopping environments will remain a consumer priority."
For retailers to achieve stress-free shopping, she suggests the following:
Leverage the health benefits of mindfulness through multi-sensory experiences
Take Topshop for example. In September 2019, the struggling fashion retailer launched an immersive store experience at its Oxford Street branch to encourage customers to do more than just look at its window displays. Elements of the window display can be found inside the store over 800 sq ft of prime ground-floor selling space and encourages people to touch the displays, take pictures and relax on the soft furnishings.
Celebrate time affluence by providing safe spaces for people to pause
Morrisons, Asda and The Entertainer are among the businesses that have prioritised creating a calm environment for shoppers, particularly those who suffer from autism, offering "quiet hours" on a regular basis. Morrisons, for instance, dims its lights, turns off music, avoids using the tannoy system and turns checkout beeps down across its UK stores every Saturday from 9am to 10am.
Design in-store experiences to encourage introspection, providing respite from daily stresses and anxieties
Skincare brand Aesop has set its new store in Sydney slightly back from the pavement to give shoppers a "moment to decompress" and, according to Saunter, to acknowledge their transition into a calmer space".
Go beyond temporary experiences by creating meaningful relationships and fostering engagement
In LA, for example, "optimistic lifestyle" fashion brand Madhappy fosters an inclusive local community by hosting what it calls impactful experiences and providing a platform for conversations around mental health. The brand's new flagship in SoHo, New York, debuted in October 2019, with an open floor plan and a colourful interior that reflect the retailer's mission of optimism and positivity.
The fear factor is just one of the big global retail trends identified in The Retail Year.
Download your free copy today to find out more about the top issues influencing global consumer spending in 2020.
The report will also uncover:
The what, why and how of global retail in 2019, and what the next year holds across bricks and clicks
The 18 biggest global retail economies of 2020, and why unlikely markets such as Turkey and Poland make the list
A country-by-country view of the retailers leading in each market, from Flipkart in India and Alibaba in China to Tokopedia in Asia-Pacific and Aldi in Germany
Growth opportunities provided by global retail, from technology to sustainability