Tesco UK chief executive Jason Tarry, Amazon UK country manager John Boumphrey and Aldi UK managing director of buying Julie Ashfield have spoken about their 2023 customer strategy in a major new Retail Week report.
Crisis and the consumer, produced in association with Jaywing, Juniper, Opia and Yext, is based on findings from extensive research with 1,000 UK consumers into their shopping intentions next year, and also includes interviews with Gousto vice-president, food proposition, Kathryn Huxtable and Jigsaw chief executive Beth Butterwick.
Understandably, consumers are worried about their finances next year and the research provides worrying reading for retailers: 79% plan to reduce spending in response to the cost of living crisis; 89% will be more careful with their spending; and 78% will buy cheaper brands as a result.
Retailers take action
In a bid to tackle the cost-of-living crisis, the retailers we spoke to were keen to support customers.
Huxtable says Gousto has been listening to feedback to ensure its offer remains relevant for, and supportive of, customers on tighter budgets. It recently launched a collection of no-oven recipes to help reduce energy use, including a Sunday roast cooked entirely on the hob. It is also supporting food banks with specially designed meal kit food parcels and is funding research into the mental health, wellbeing and social impacts of meal kit food parcels in a bid to improve UK-wide emergency food provision.
Aldi's Ashfield says: "We are doing everything we can to make food shopping as affordable as possible for millions of households, as well as making our customers' shopping experience as quick and simple as possible."
Retailers are not just focusing on consumers but also working to support staff where they can. In October, Aldi committed to paying all store staff across the country at least £11 per hour from January (£12.45 for those working inside the M25), outstripping Living Wage Foundation markers and hiking its base pay to 15% above what it was a year ago.
Building shock-proof strategies
Butterwick says retailers could repeat some of their tactics from the 2008 financial crisis but adds that it is important to remain committed to environmental and social governance (ESG) progress.
She explains: "The same basic principles apply [as after the 2008 financial crash] — know your customers and product USPs well, and ensure you are offering a seamless, experiential purchasing journey, added to which there is a growing ESG sentiment driving consumer purchase considerations and share of their loyalty. Next year and beyond, look to be extremely tough; having a business model that is cost-effective and agile will drive competitive advantage."
Retailers may need to remodel to cut costs and use partnerships where possible, she adds: "Most retailers used the Covid period to remodel their businesses, however, this might not be enough. I think we'll see companies review and stop non-value add initiatives, plus scale growth via leveraging partnerships where it makes sense as more cost-effective and faster."
UK country manager John Boumphrey says the focus at Amazon – which was selected by respondents to our consumer survey as the retailer offering the best customer experience – is low prices, vast selection and fast delivery, which checks three important boxes for shoppers.
"That's something that our customers value every day, especially when budgets are tight, and we have always focused on the best possible customer experience," he says.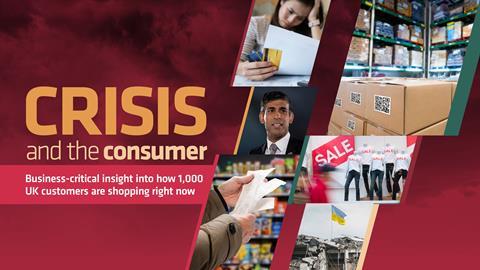 For more on how to navigate the challenges the rise in the cost of living will present this Christmas season and in 2023, register for free access to the Crisis and the consumer report now.
It will detail why you should:
Prioritise value for money – this is consumers' number-one concern
Think creatively – educate, share ideas and foster a positive sense of being in this together
Tailor your response – people are affected in different ways and will require different messaging and solutions
Cut costs where possible – identify what can be cut and where efficiencies can be found
Not forget about sustainability – purpose still matters and will continue to do so as the crisis evolves
You will also hear exclusively from a range of retail leaders and experts we spoke to, including: