Consumer confidence in the UK has risen to its highest level for nine years, according to the latest Nielsen figures.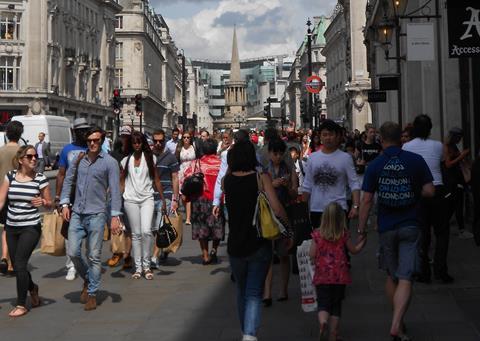 Consumer confidence at a nine-year high
45% feel it is now a good time to make a purchase
Half feeling positive about their personal finances
The research firm's UK Consumer Confidence Index hit 97 in the first quarter of this year, which is the fifth successive quarter of growth for the measure. The proportion of consumers who believe it is "now a good time to make a purchase" has reached 45%, the highest figure since 2006's third quarter, indicating potentially positive news for retailers.
The findings echo those of GFK, which last month suggested that consumer confidence had hit a 13-year high.
The scores are derived from Nielsen's Global Survey of Consumer Confidence and Spending Intentions, which surveys around 30,000 internet consumers in 60 countries.
Other highlights from the first-quarter findings show the number of UK consumers:
Who feel positive about their job prospects increased for the eighth consecutive quarter to 45% – the highest level for 7½ years
Who believe the UK is in a recession dropped for the eighth consecutive quarter to 51% – the lowest level since the question first appeared in the survey, seven years ago
Who say they have changed spending habits to save money stood at 56% – the second lowest point on record
Who feel positive about their personal finances rose five points to 50% – the highest level for 7½ years
Nielsen UK managing director Steve Smith said: "Consumer confidence in the UK continues to rise. The UK is one of the fastest growing major economies, unemployment is falling and people are benefiting from zero inflation and lower prices in supermarkets and petrol stations."
He added: "Whilst the majority of people are still cost-cutting – perhaps habitually now – wages, for others, are rising faster than household expenses. This is leading to more optimism about their future spending, so we expect to see confidence continue to rise in 2015."