Vince Cable is to back a probe into the administrators of Comet, referring three partners of Deloitte to chartered accountants body ICAEW.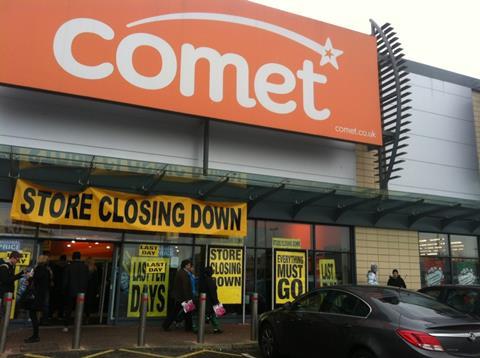 The Insolvency Service is referring Nick Edwards, Christopher Farrington and Neville Kahn, three of the most experienced insolvency practitioners in the UK to the organisation, which has the power to impose substantial fines or strip accountants of their licence.
The news, revealed by business secretary Vince Cable today, is part of a broader review of the UK's insolvency process, which the business secretary launched after electricals firm Comet plunged into administration.
Cable said: "The taxpayer now faces a multi-million pound compensation bill as result of the failure to consult employees. It is vital that the regulator establishes why this happened and whether disciplinary action against the administrators is appropriate.
"There are also important issues of possible conflicts of interest which need to be fully considered."
The ICAEW probe is expected to examine whether the three partners breached accounting profession guidelines over a possible conflict of interest because they had acted for Comet before its insolvency and whether they failed to consult its staff properly before they were made redundant.
It is not unusual for an accountancy firm to have undertaken work for a client before overseeing its insolvency procedure but the practice has become more contentious with the recent rise of pre-pack administrations.
A spokesperson for Deloitte said: "We will cooperate fully with any investigation. However, we strongly disagree with the suggestion of a conflict of interest. It is not unusual for an administrator to be appointed to an insolvent company following a period as an adviser. Indeed, the administrator having knowledge of a company's financial and commercial challenges is generally beneficial to all creditors and employees.
Deloitte also insisted it worked "tremendously hard" to provide consultation to Comet's nearly 7,000 employees.
The spokesperson said: "All employees were notified in writing of the risk of redundancy and consultations took place at sites in a very tight timescale and whilst significant efforts were being undertaken to rescue the business. Union representatives were also invited by the administrators to participate in consultation meetings.
"The administrators organised jobs fairs and employability events which were attended by hundreds of Comet employees, whilst Job Centre briefings were held at Comet sites. A helpline was set up to assist employees and a website was created where more than 50 prospective employers posted available positions."
More than 2,000 Comet staff have been awarded around £10m in redundancy following an employment tribunal, which concluded last month.
A judge is due to rule shortly on whether redundancy payments should be extended to a further 4,000 ex-Comet employees.
Lawyers acting for the complainants described the collapse of Comet as "an old-fashioned corporate raid" and "one of the more regrettable episodes of British corporate history".
Comet was bought by private investment firm OpCapita for £2 in November 2011 and went bust just a year later. However, documents filed at Companies House indicate that OpCapita and hedge fund Elliott Advisors, which it emerged also held a stake in the retailer, collected almost £117m from Comet's collapse.
The ICAEW probe is separately to consider whether there are grounds to disqualify former directors of Comet, including OpCapita founder Henry Jackson.