January is always a time for the grocers to focus on deals, and the Co-op has become one of the most vocal this year in a bid to grab spend.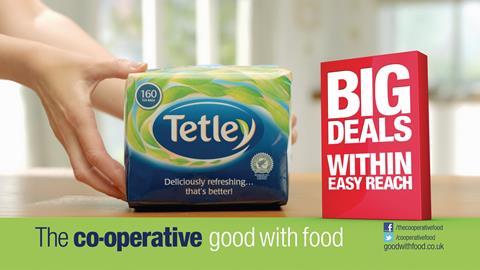 Its latest campaign, launched last week, features the same husband and wife characters the previous campaign introduced to shoppers. The pair lead viewers through a host of deals that the Co-operative hopes will kick-start its year.
The campaign includes TV, press, digital and in-store adverts and the retailer says it will be refreshed with new deals throughout January.
The adverts play on its convenience role, with the tagline 'Big Deals within Easy Reach' highlighting its position as the local store in shoppers' lives.
While all the grocers are relying on promotions as much as ever this month, the Co-operative has been very communicative about its offers. It's a good idea – shoppers might not associate the convenience retailer with low prices as much as they will grocers such as Asda. Its use of the now-familiar husband and wife team is also wise move, with recurring characters helping shoppers to immediately recognise the ads as belonging to The Co-op.
Its previous campaign's message, however, was for people to shop less, focusing on all the things customers could do if they saved time by visiting their local Co-op instead of the nearest supermarket.
Presumably this isn't a trend the Co-op wants to encourage this month. With confidence low and consumers hesitant, the grocery sector will want all the spending it can get.