Many retailers are disillusioned with Labour rule in the downturn but would a Conservative government led by David Cameron really be the answer to their woes?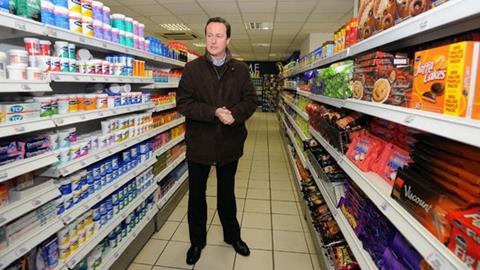 As the Labour government limps towards a general election next year, many retailers' gazes are fixed firmly on the Tories to help ease the weighty burdens of crippling business rates, unrelenting retail crime, destitute high streets, a lack of credit - the list goes on.
With most anticipating a change in Downing Street, what would a Tory government mean for UK retail businesses? And would it help retailers fight many of the battles they have struggled with under Gordon Brown's premiership?
There are without doubt many high-profile retailers who are ardent Conservative supporters who would welcome David Cameron et al with open arms - DFS founder Lord Kirkham, Next chief executive Simon Wolfson and Carpetright founder Lord Harris to name but three. Dixons founder Lord Kalms is another notable Tory grandee. He says: "They've got to get cost out of the industry. They have to cut the income available and reduce substantially the money that is pouring into bureaucracy and creating extraordinary costs."
The critical question is how they would cut those costs. One news story will not have given retailers much cause for optimism, as the Conservatives have failed to rule out a VAT increase to 20% should they be elected. The British Retail Consortium last week forecast that the return to 17.5% on January 1 will cost retailers £90m alone and Lord Kalms, for one, is in no doubt about his stance: "Raising VAT would be fatal because it would slow the economy down even more."
Shadow minister for business Mark Prisk is unsurprisingly non-committal. "The idea that we have a neat plan for the budget of 2010 post-election is speculation," he says. But, he adds: "Ultimately, we need to balance the books." BDO Stoy Hayward head of VAT Marc Welby says no one should be surprised if the Tories do raise it to 20%. "If you're a new government coming in, it probably is more palatable to make a tax increase shortly after coming into office, with the advantage of blaming it on the previous administration."
Another major area of concern has been the Government's stance on business rates, which leapt by another 5% in April. In March this year, Chancellor Alistair Darling told Retail Week that although he recognised the pressures retailers are under, rate-freezing would cost the Exchequer £1bn. Moreover, the Government does not seem willing to budge on next April's planned revaluation, which will result in further and bigger rises.
Would the Tories help alleviate business rate pain? Unfortunately, it looks unlikely. Prisk says: "We do recognise the problem retailers face but there are huge, gaping holes in public finances, so room for manoeuvre is very limited. In truth, because of the finances we will inherit, our ability to substantially reduce those costs is very difficult in the immediate term." The Tories do, though, plan to make business rate relief for small businesses automatic - under the present system they have to apply to obtain it.
So far, it might not look all that promising. So where could the Conservative party proactively help the retail sector?
Retail crime
One area is retail crime. Philip Dunne, Ottakar's co-founder and now MP, is chairman of the retail and consumer goods group of Conservative Business Relations and chairman of the Retail Crime Commission. He says: "The Government has lost focus on retail crime and that needs to change. What prompted us to set up the commission was a sense that this Government had little interest in paying any attention to retail crime, and the fact they felt it was victimless." The commission will present its report into retail crime at the end of the summer. Dunne cannot go into details about its contents, but says retail crime "needs much more attention in the criminal justice system and it needs more effective sanctions".
"The Government has lost focus on retail crime and that needs to change"

Philip Dunne, Ottakar's
Retailers will also be imploring a new government to ensure loans are available and that credit is eased. This, says Lord Kalms, has been "the nightmare of the retail industry". The issue of credit does appear to be on the Tory agenda. It plans to establish a single National Loan Guarantee Scheme, worth about £50bn, which would be accessible to viable businesses across all sectors. Prisk says that unlike the Labour government's approach that involves many different schemes, "ours would be simple, common to businesses of all sizes and so easier to access".
By establishing this loan guarantee scheme, the aim is to also help protect jobs. BRC business environment director Jane Milne says maintaining employment is a primary concern.
The BRC has campaigned to scrap the proposed increase in national insurance contributions as well as establish a long-term framework for the national minimum wage. The BRC also wants to ensure employment legislation is "flexible so the sector is not faced with more impositions from Europe".
Easing businesses' employment issues generally also appears to be on the Tory agenda. Dunne says: "We think increasing taxes on jobs is not the right thing to do at this stage in the recession." During the recession the party proposes to help companies with the cost of hiring new staff by cutting national insurance contributions for new jobs, and in the long term it aims to simplify employment law to make the recruitment process more straightforward.
The Conservatives also want to reinvigorate town centres. In terms of planning, the party wants to re-establish the needs test under PPS6, which would mean edge-of-town or out-of-town retail developments would be subject to a robust set of criteria to ensure they do not impinge on nearby town centres.
"I don't think the Government's loosening of this is a good idea," says Prisk. "The moment you loosen the terms, it's natural for retailers and developers to go for open fields. You only need to look at sprawling American towns and cities with out-of-town malls to see how you lose the core of the towns."
Shrewd operators
This is all very well, but it might not bode well for the likes of supermarkets for whom opening on out-of-town sites is often integral to their plans. Prisk dismisses the notion it might anger some retailers. "It may upset some companies' plans, but they're big and shrewd enough to have factored that in," he says. "If you talk to many big-name retailers such as Boots and John Lewis, these are large retailers who are highly successful and valued in town centres."
He says the shopping experience in malls needs to be emulated in town centres in order to rejuvenate high streets and drive footfall. The Conservatives are meeting with the Association of Town Centre Management to look at how vehicle access, parking, signage and lighting could better managed. "Town centres need to be run in a way that allows people to feel it's the same quality of experience as they would find in a shopping mall."
The way in which the retail sector is viewed by policy makers is paramount in easing the burdens it faces. The Conservatives appear to recognise both the importance and requirements of the retail sector, and certainly the BRC backs this up. Milne says: "They have listened carefully to what we've said."
While the Conservatives might say their hands are tied because of the astronomical deficit the party would inherit, there is much they want to change. Prisk says one mistake, for instance, is the Competition Commission's wish to implement the competition test, which would block developments by retailers that already have a strong presence in an area. "The Government has interfered endlessly with the regulatory framework for business," he says. "Retailers need clarity. My focus is on what we can do to help retailers get through what has been a difficult year."
No one doubts the monumental task a Tory government would face should - or when, as many predict - it take up the mantle. Helping retailers will be one small part of a very large jigsaw, and so Lord Kalms urges the sector to "continue to produce the facts and lobby the Government hard".
While it may be some time before any tangible, positive effects of a new government filter down, this would not make its election any less sweet for many retailers tired of the present regime.
Lord Kalms, for one, does not hold back when he summarises the effects of a Labour government on the sector: "There is hardly a thing that Brown and Darling are doing which makes any economic sense whatsoever."
Labour's successes and failures
Labour might be spectacularly unpopular at the moment, but there have been measures introduced under its rule that have benefited retailers. One, to which shadow business minister Mark Prisk will also testify, is the introduction of Business Improvement Districts (BIDs), which involve local businesses voting to invest collectively in local improvements to enhance the trading environment. Prisk says: "I do welcome their BID schemes. We would keep that and support them."
Labour MP Christine Russell, chair of the All-Party Retail Group, says another key achievement has been tackling antisocial behaviour and disorder, which can prompt shoppers to "drift towards out-of-town centres". She says that Crime & Disorder Reduction Partnerships, which involve partnerships between the likes of the police, local authorities, the probation service and local businesses, have "made a significant difference" to crime levels.
Although Russell says she recognises the struggle retailers face with business rates, she adds that many businesses have "been given some transitory relief in that they have more time to pay". But she readily admits more could be done to deal with high rents. "One of the measures we haven't tackled is greedy landlords. Even at the moment landlords are trying to put up huge rent hikes when leases need renewing," she says.
Russell also recognises that retail is still not considered by decision makers at all levels to be a key sector, "but it's vitally important", she says. "People automatically say: 'We must keep the car plants open.'
Of course manufacturing is vitally important, but retail is the lifeblood of the community."
Conservative Plans
The Conservatives say they would help UK businesses during the recession by:
Establishing a temporary National Loans Guarantee Scheme to get credit flowing again and help protect jobs
Allowing struggling firms to defer their VAT bills for up to six months
Cutting small companies' payroll taxes
Helping companies with the costs of hiring new staff by giving tax breaks for new jobs
The party says it would "help ensure Britain is one of the most competitive economies in which to do business in the future" by:
Cutting the main rate of corporation tax
Cancelling Labour's planned increase in the small companies tax rate, and cutting the rate instead
Reducing the burden of regulation to give businesses more freedom and greater flexibility
Simplifying employment law to make it easier to hire people
Improving skills training and apprenticeships
Reforming the Regional Development Agencies to create a vibrant, business-focused force
Strengthening UK Trade and Investment to give British business a powerful voice abroad
Increasing government procurement from small companies
Source: The Conservative Party Policy