South African retail group Steinhoff failed to pounce on Home Retail and Darty earlier this year, but is now chasing a Poundland acquisition.
Steinhoff acquired 61.2 million Poundland shares last week, which represents 22.78% of the value retailer's issued share capital.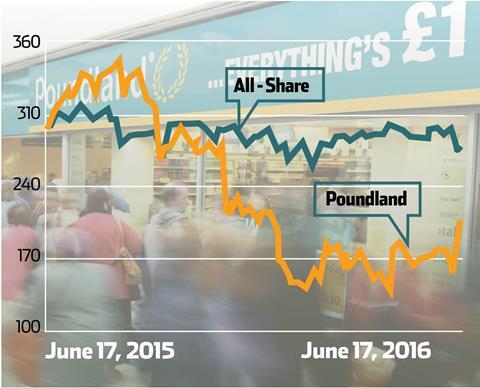 It was an audacious move and reflects well on the British high street that Steinhoff sees an attractive investment opportunity here. The group already owns UK retail brands such as Harveys and Bensons for Beds.
Meanwhile, one of Steinhoff's major shareholders, Christo Wiese, has become an increasingly important player in these shores, buying into fashion retailer New Look, and helping to fund both Andy Bond's Pep & Co venture and Guess How Much company – which is interestingly a new variety store.
Value market growth
The timing is ripe to get into the growing value market. After years of seemingly never-ending top line and profit growth, Poundland has struggled in the last year. Its shares have dropped by a third in the last 12 months as profits have come under pressure from the 99p Stores acquisition and associated costs, making it more of an attractive takeover target.
Last week Poundland posted an 83.7% plummet in annual pre-tax profits. Stripping out the 99p Stores acquisition, profits fell 13.5% to £37.8m.
Like-for-likes tumbled 3.9% as greater competition took its toll.
Chief executive Jim McCarthy, who is retiring at the end of this month, blamed the poor performance on "disruption" over the 99p Stores acquisition.
"We took our eye off the ball," he admitted. "The disruption caused was very significant."
And there could be more disruption to come if Poundland itself is taken over.
Moody's positive outlook
Moody's seems to like the idea. "Poundland would fit well into Steinhoff's existing retail footprint in the UK and would be easily incorporated into its vertically integrated logistics and supply chain. In our view, Poundland's operations would benefit from synergistic cost savings by leveraging off Steinhoff's procurement, warehousing and logistics services, lowering operating costs and increasing overall EBITDA generation.
"Steinhoff's captive e-commerce audience also opens up integration opportunities to add scale and costs saving"

Moody's
"And, because Poundland and Steinhoff's Pep & Co stores target the same discount retail customer base in similar locations, there is a potential to share retail space and to cross sell. Steinhoff's captive e-commerce audience also opens up integration opportunities to add scale and costs saving by adding in Poundland."
It sounds like a convincing argument, and Steinhoff will have until July 13 to put up or shut up. Perhaps it will be third time lucky for the ravenous hunter.