Once again it was a 'two-humped camel'-shaped Christmas trading period for electricals and mobile technology specialist Dixons Carphone.
And once again the retailer successfully stayed in the saddle over the seasonal peak, generating like-for-like growth of 5% at group level and in its core domestic market.
Since its creation almost two years ago, Dixons Carphone has overcome the scepticism it was greeted with by some in the City and has performed consistently well.
In a retail market that has been pretty flat overall, market share growth is one of the key performance indicators and Dixons Carphone has been gaining ground.
Combining the Dixons and Carphone brands in remodelled 'three-in-one' stores is going down well with shoppers. Their popularity means the retailer can bring store numbers down by 134 without an effect on jobs but are expected to deliver £20m in incremental earnings.
Company culture
Overseas, the Sprint venture in the US has gone to plan, giving Dixons Carphone the confidence to press the button on a 500-store roll-out.
Dixons Carphone chief executive Seb James's update contained the obligatory thanks to colleagues. Unusually, though, he articulated more fully what he meant. He said: "It gives me real pleasure to see the emergence of a distinct – and sometimes quirky – Dixons Carphone culture that contains some of the best elements of our different histories."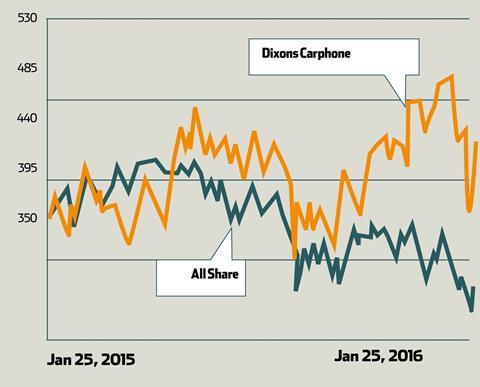 Business culture, which can often be a bit intangible, is one of the biggest drivers of a company's success.
What Dixons Carphone has done well, as 'old' Dixons did before the merger, is to forge a genuinely shared culture from top to bottom.
It's evident on social media – James is one of the few leaders of a listed retailer who is active on Twitter – where many colleagues ranging from head office to shopfloor staffers have accounts and readily engage.
That's a small thing but it brings a different sort of transparency and shows that the retailer generally walks the talk when it comes to building a shared sense of purpose and mutual respect.
Material result?
If only there were a measure of business culture that could be applied when considering a potential investment. It's often talked about, and all too frequently it's hot air. But it often makes a difference between success and failure.
Whether it be Marks & Spencer in its heyday, or much more recent arrivals such as Asos, a common culture runs through their people like the lettering in a stick of rock.
There may be no way to measure culture, but you can measure its benefits. Dixons Carphone's full-year profit is expected to come in "slightly above" consensus.
If Dixons Carphone could bottle a bit of the spirit that seems to be standing it in such good stead, it might shift a few of those bottles to company chief executives.