In the face of Amazon's continued dominance in online book sales and the growing popularity of ebooks and tablets, high street bookseller Waterstones has launched an advertising campaign lauding old-fashioned bookshops.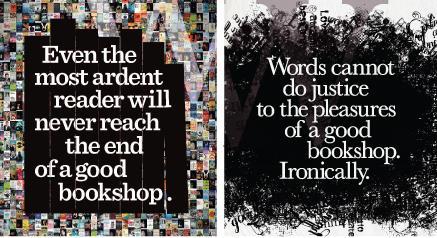 Spanning print and outdoor, Waterstones' campaign celebrates the pleasures of discovering a tome in a good bookshop, as well as the tactile qualities of hardbacks and paperbacks.
The creative, by ad agency Leagas Delaney, focuses on clever, well-written tag lines placed in front of beautifully designed backdrops, ranging from a colourful collage of book covers to a cloud of smudged ink.
The humorous and witty treatment taps into people's enduring reverence for books and bookshops while also gently mocking online shopping. The tag lines include: "Books you can't put down are much easier to find when you can actually pick them up" and "A browser. Much better to be one than to use one."
Leagas Delaney creative director Nigel Roberts says: "Buying a book isn't just about convenience or price. It's about the irreplaceable pleasure of discovery that only a good bookshop can offer. People still love books but we need to remind them to love their bookshops."
Whether the campaign can convince readers who have already been won over by the convenience of online and ebooks of the qualities of a bookshop is questionable.
But while Waterstones may be preaching to the converted, it does it very well.