The new Sainsbury's campaign is well timed for the school summer holidays and continues the grocer's 'Live well for less' mantra.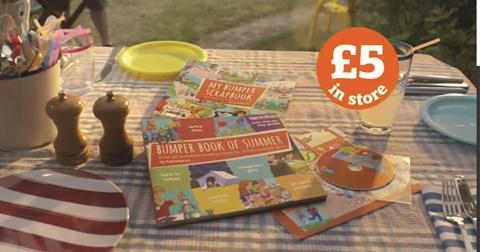 As parents seek to entertain their children without breaking the bank, the campaign promotes the retailer's new 140-page Bumper Book of Summer, which offers those on a budget more than 60 imaginative ideas for craft, nature and physical activities, as well as 20 recipes that families can make together.
The ad, made by agency AMVBBDO, illustrates some of the ideas, such as playing makeshift musical instruments made from used food packaging, playing on a waterslide in the back garden and baking a cake in the kitchen. The ad is filmed beautifully and the hazy Instagram look, which seems to be popular among grocers at the moment, taps into the nostalgia that parents may have for their own childhood school summer holidays. Instead of video games, the holidays for them meant playing outside with friends - rain or shine.
At just 30 seconds and set to an energetic punk rock soundtrack, the campaign is also quick and to the point, speedily showing off the many activities the book features with quick cuts of kids having fun.
The ad emphasises this point towards the end with the tagline 'Bored this summer?' followed by 'Don't think so'. It then reveals clearly the book and its price: a reasonable £5.
This is a clever move by Sainsbury's - the tone of the campaign and product is likely to strike a note with those parents who want to make their children's summer holidays as fun as they remember their own were when they were young.