Argos declared its intention to move away from its traditional catalogue heritage last month and instead focus on multichannel.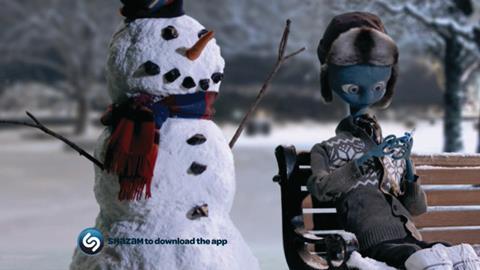 Its new mobile-interactive TV ad echoes that ambition and showcases its iPad and smartphone apps.
The ad, created by CHI and Partners, features the father of Argos' alien family, voiced by Bill Nighy, shopping on a mobile in a variety of places, including on an ice rink, in the pub and on top of a Christmas tree.
The ad campaign, called 'I Can Shop From Here', clearly illustrates the flexibility of shopping anywhere with an app and then collecting in store. Shopping this way is not unique to Argos, but at the very least the campaign may promote m-commerce to viewers.
Uniquely, the ad also carries an on-screen prompt for viewers to use the popular audio recognition app Shazam. Commonly used to identify music, Shazam recognises the advert's audio and guides a viewer's smartphone to a direct download of the Argos app.
Connecting the TV advert directly to its app is a smart move by Argos. It gives those with the Shazam app convenient access to the retailer's app without having to search for it.
However, you do not need the Shazam app to appreciate the ad's multichannel message.
The campaign may also contribute to making the retailer synonymous with multichannel retail, backed up by its strapline 'We believe there is a better way to shop online, Argos it'.