Oasis and Warehouse, Former CEO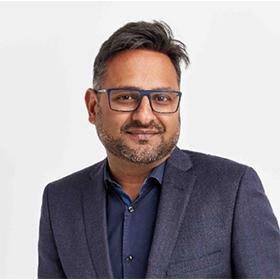 Hash Ladha was CEO of Oasis and Warehouse from October 2018 to April 2020. He had been with the Group for 10 years, joining in 2010 as Group Multichannel Director.
Hash was attributed to growing the digital business across the group significantly and has award winning initiatives such as 90 minute delivery and ship from store.
He joined Oasis and Warehouse from ASOS.com where he was Marketing & Operations Director from 2007.
He has previously worked in various marketing roles across the high street including Topman, Evans, Dorothy Perkins, Austin Reed and New Look.
He was formerly on the advisory board at Farfetch.com and is currently an advisor to Urban.com.
On being a Be Inspired ambassador, Ladha says:
"The benefits of diversity are clear and unarguable. A mix of people no doubt creates better thought leadership, better culture and values and better performance as a result.
"We are fortunate that our teams at Oasis and Warehouse are made up from different backgrounds and experiences, so it helps us with diversity of thought.
"Promoting diversity is front of mind for us, it's about valuing people for who they are and creating an environment which simply does not discriminate in anyway, and ensures people always feel that they are able to participate and achieve their fullest potential.
"I am so pleased that Retail Week has such a concerted focus on this issue and that it continues to play a significant role in ensuring we have a level playing field for everyone in the retail sector.
"As a result, I hope we are a shining example of an industry, which is not just seen to be doing the right thing, but our values are aligned and inclusive leadership is the norm."