Mars Food, Global President of Multisales and Global Customers
Fiona Dawson joined the Mars graduate programme from Trinity College Dublin and has enjoyed a long career at Mars in various roles, including European marketing vice-president, managing director and then president of Mars Chocolate UK. Dawson has also participated in the Mars Chocolate Global Board and acted as president of Mars Global Retail.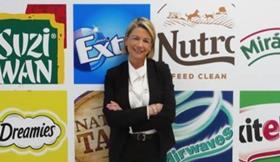 Dawson has a passion for the advancement of women's entrepreneurship and human rights, especially in the developing world. She is chair of the Women's Business Council, a group seeking to advance women in the executive pipeline. She is also a member of The Lego Group's board of directors, where she brings her decades of experience working with global consumer brands to help support the long-term vision of the Lego Group. She is also a non-executive director at Marks and Spencer.
A passionate cook, Fiona lives in the UK with her husband, their two sons and their cocker spaniel Roly.