Mars Foods, Global President of Multisales and Global Customers
Fiona Dawson joined the Mars graduate program from Trinity College, Dublin and has enjoyed a long career at Mars in various roles, including European marketing vice president, managing director and then president of Mars Chocolate U.K. Dawson has also participated in the Mars Chocolate Global Board and acted as President of Mars Global Retail.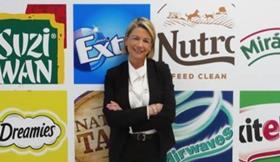 Dawson has a passion for the advancement of women's entrepreneurship and human rights, especially in the developing world. She is chair of the Women's Business Council, a group seeking to advance women in the executive pipeline. She is also a member of The LEGO Group's Board of Directors where she brings her decades of experience working with global consumer brands to help support the long-term vision of the LEGO Group.
A passionate cook, Fiona lives in the UK with her husband, their two sons and their cocker spaniel Roly.