Retailers need to create more flexible conditions for working mothers to stop losing talented employees, sector leaders have warned.
Mars global president Fiona Dawson told a packed crowd at Retail Week's Be Inspired conference today that a fifth of women leave the workplace because they have had a flexible working request turned down.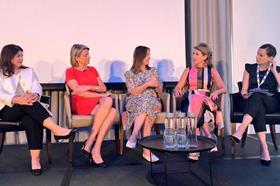 M&S clothing, home and beauty managing director Jill McDonald said technology and remote working was making it easier for women to balance motherhood and a successful career. She urged employers to offer flexible working options.
Figleaves chief executive Miriam Lahage said retailers need to make sure this way of working is adopted through every part of the organisation. "We make sure that every department knows that we really mean it and it's not a case of you don't get it because you have a certain line manager," she added.
She said employees tend to be more engaged if you allow them to work flexibly. "We treat people like grown ups and they become more accountable as a result," she said.
Dawson urged women not to rule out opportunities because they want to start a family. She told the audience in east London that earlier in her career she had turned down a role because she wanted to have a second child before being talked around by her mentor.
"Don't select yourself out for reasons which could've been fixed. Amazing things are possible if you just ask," said Dawson.
Organisation, communication and mentors
Organisation, communication and having a good network are critical for female executives that want to have children and a successful career, the panel said.
Karen Millen chief executive Beth Butterwick said: "It's no different from having a job – you need to organise your life. Talk to your husband about what you're going to do and plan it together."
Butterwick encouraged people to seek out a mentor: "Don't do it the hard way, surround yourself with good people and get advice."
Be Inspired: Leaders reveal secrets to career success
1

2

Currently reading

Be Inspired: 20% of women quit over flexible working