As Amazon prepares for the international launch of its Kindle e-reader next week, George MacDonald asks if it will bring about bookshops' demise, or if the world of print will prove resilient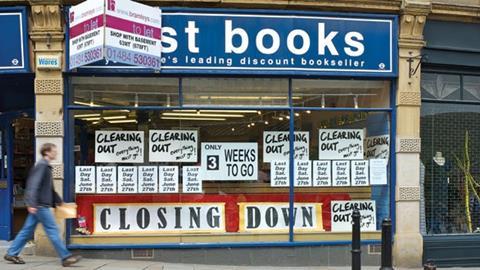 On Tuesday, bookseller Waterstone's celebrated the 10th anniversary of its Piccadilly store, the biggest bookshop in Europe.
As the retailer's management clinked celebratory glasses with guests such as bestselling authors Joanna Trollope, Margaret Drabble and Charlie Higson, the conversation was likely to have touched upon what may be another red letter day for bookselling: the launch this Monday of Amazon's Kindle electronic book reader.
Amazon has already revolutionised bookselling once in its short existence. Is it about to do so yet again with the international debut of Kindle, which is seen by some as a potential "iPod moment" for the market?
Originally launched in the US in November 2007, Amazon expects sales of Kindle to pass the 1 million mark by the end of this year. The wireless device — which must be bought through Amazon's US website for the time being — will enable UK customers to download books in less than a minute using 3G technology.
Shoppers here will have access to about 280,000 books as well as some international newspapers and magazines. However, on top of the $279 (£176) cost, UK consumers will pay more than their US counterparts in for books - $13.99 (£8.80) rather than $9.99 (£6.30) - as a result of Amazon's higher operating costs outside its domestic market.
Over the past decade developments such as the rise of etail and the incursions of the big grocers into bookselling have spelled the end for many independent bookshops. Chain bookselling has also been transformed as famous names such as Dillons and Ottakar's were snapped up by Waterstone's - now the undisputed specialist market leader on the high street. Does the rise of ebooks and e-readers mean that the bookshop is dead?
No, is the resounding answer from Waterstone's commercial director Neil Jewsbury, who describes the notion as making an "easy headline" rather than reflecting reality.
The advent of e-readers is simply the latest development in the ongoing changes wrought by the digital age that have made all retailers reassess how they do business, he maintains. "To say it's the end of the bookshop is premature. I'm sure it does put pressure on individual book retailers but booksellers need to be able to quickly adapt."
He envisages a future in which ebooks and etail generally are a core business element, but one in which stores will still have a role. "It's not something we should be intimidated or frightened by," he says. "We can up the offer to customers across different channels." Service, product knowledge and events such as author signings - Waterstone's held 12,000 last year - all mean that shops will continue to draw readers in.
Although initially criticised for its slowness to respond to the emergence of etail and Amazon in particular, Waterstone's has been acting to make up lost ground.
Jewsbury points out that Waterstone's displays e-readers in its shops - it exclusively launched Sony's device in September last year - as it courts customers across channels.
Waterstones.com already sells an ebook every two minutes and stocks 15,000 titles. The fastest selling book - unsurprisingly - was Dan Brown's
The Lost Symbol, which sold more than 1,000 digital copies on the day of its release. Since September last year, the average ebook customer of Waterstones.com has downloaded just over six titles. Fiction, crime and romance are the top three genres.
Jewsbury thinks e-reading technology will bring in new customers.
"We think it's good for publishers, authors, customers and retailers," he said. "It's new and exciting, it's convenient, it's in line with trends and fashionable. It's got the opportunity to drive new readers." One in four people claim not to read a single book in a year, he says, but the new technology may extend the category's appeal.
Device wars
Kindle may be a proprietary Amazon product, but the etail giant will not necessarily have things all its own way. At present Kindle is seen to have an advantage because of its wireless technology. Users of other e-readers typically need to link to a PC to buy books.
But Sony, for instance, has developed its own wireless e-reader, which is expected to debut in the US this December. As well as enabling users to buy books, it will allow them to "borrow" titles from libraries. Sony has also switched away from a proprietary format for ebooks and adopted the ePub open format, meaning shoppers can buy from a variety of sources to read on the devices.
A Waterstone's spokesman said: "We know more devices will be added to the market, which is why we support the industry standard format for ebooks- ePub. By utilising the ePub format in e-readers, customers are given the freedom to choose which device they read their content on, and this will help authors and publishers reach as large a part of this rapidly expanding market as possible.
"We expect [the Kindle] announcement to be one of many in the coming months when we will see even more devices added to this quickly evolving part of the book world."
Scott Pack, publisher at HarperCollins imprint The Friday Project, which specialises in turning web content into books, and formerly Waterstone's head buyer, also downplays the likely impact of Amazon's Kindle launch.
"It's not an iPod moment," he says. While he admits that Kindle and similar devices "will eat into physical book sales" and declares himself a "big fan" of the new technology, he says that there are important differences between the significance of the iPod and e-readers.
Recalling the debut of the iPod he says: "It wasn't that a device came along that enabled you to listen to music - there were already Walkmans - but it allowed you to put on your entire collection and listen how you wanted."
While he notes that "Kindle is a different way of reading and accessing" books, he thinks that most readers have no need to store their books as they might music tracks. While an iPod listener might want to switch bands and styles, a reader is likely only to be reading one or two books at a time and storage is not a problem.
He thinks that certain categories of book, such as travel guides, are already being affected by digital technology - "people now use their iPhone as a guide" - but many others remain unaffected. "Wireless technology is very exciting but what readers are being offered will not make them completely change their reading," he says.
A surprise ending
One book etailer also doubts that the emergence of Kindle and similar devices will signal the end of the bookshop and books themselves. He says: "It's not about hardware, it's about what you can do with it."
He views e-readers at present as being reminiscent of the early days of etail "when people took catalogues and stuck them online". He believes that the e-readers fail to offer the interactivity that consumers now associate with text on digital devices - such as links to relevant information or the ability to click through from an index to the relevant page. "It needs to be intuitive - that's why Apple has been successful," he argues.
Waterstone's founder Tim Waterstone concedes the growing popularity of ebooks will have an impact. In a TV interview last week he said: "Certain parts of the market - the academic, the technical and so on - are going to be digitised almost completely, very quickly."
But he remains convinced that book stores will retain their place on the high street. He said: "The book as we know it now, the printed word on paper, is such a strong consumer product and so loved that it's going to be many years before it's seriously moved off the shelves.
"I don't want to sound Luddite - look what happened in the music industry - but the book is something different. It's not expensive, it's wonderful to collect, it's the most beautifully tactile product and bookshops are lovely tactile places. They're a form of entertainment. I think it will be a long time before we see anything really serious to divert people away from traditional book buying."
Market analyst Forrester has little doubt that e-readers are here to stay and expects such products to be a "breakout success" in the US over Christmas. It forecasts sales of 900,000 units in November and December and increased its expected sell-through this year from 2 million to 3 million units. "We expect sales in 2010 to double, bringing cumulative sales to 10 million by year-end 2010," Forrester says.
But while sales of ebooks have been growing fast, they are still dwarfed by those of physical products. Pack reckons that sales of a typical ebook can be measured in hundreds, rather than thousands, per week.
While there is no doubt that Kindle and similar devices are likely to change that, and therefore the world of bookselling, the likelihood is authors and retailers will still be clinking glasses in bookshops for quite a while to come.
Kindle in the UK
Launch date October 19
Cost $279 (£176)
Product range 280,000 English language books, newspapers, magazines
Storage holds up to 1,500 books
Size 0.36 inches thick, 6-inch display
Features include QWERTY keyboard enabling text annotation