In part two of our Retail Reimagined series, examining how traditional formats would look if they were redesigned today, Luke Tugby explores the supermarket of the future.
It wasn't all that long ago that the large out-of-town supermarket was the consumer's go-to place for the weekly grocery shop.
The big four food retailers had expanded at a rapid pace across the UK, snapping up swathes of land and building huge sites of more than 100,000 sq ft in size from which to flog their food and general merchandise wares.
But the space race of the late 90s and early 2000s came to an abrupt end when customers switched to buying groceries online and in shorter 'food for now' shopping bursts in-store.
The seismic shift left larger out-of-town supermarkets strikingly out-of-kilter and having to reinvent themselves to meet the demands of the modern consumer.
Many locations have adapted by sub-letting space for partners to sell complementary goods and services, or handing over more space to general merchandise ranges in a bid to create more of a 'one-stop shop' destination.
Yet supermarket operators would be the first to admit that, were they not lumbered with such large sheds to fill, their stores could take on a very different feel in terms of layout, ranging, their use of technology and the services on offer to create a more experiential shopping trip.
So just how radically different could the supermarket look if grocers could redesign their estates from scratch?
Stores designed for the smartphone
For Tim Mason, the former Tesco deputy chief executive and current boss of digital promotions specialist Eagle Eye, the store and the entire shopping trip would be constructed around one thing – the smartphone.
"Businesses need to tap into the mobile phone to enable it to be a central part of the shopping trip"

Tim Mason, Eagle Eye
"Businesses need to tap into the mobile phone to enable it to be a central part of the shopping trip, both through the mechanics of ordering, paying, searching, and also for the tracking of consumers in-store, the trapping of their data and the issuing of messages, offers and rewards," he says.
That journey would begin as soon as shoppers enter the supermarket. Sensors creating a geo-fenced store would detect when a customer has arrived and paint a picture, using data the retailer has previously gathered on them, of exactly who they are, what they have bought previously and what is likely to be on their shopping list that day.
The first port of call on the consumer's grocery shop would be a visit to a virtual reality, artificially intelligent 'staff member', which will harness the data on that customer's previous shopping trips, offering them the option of preparing a similar basket of ambient goods for them.
As Spoon Guru chairman and former Asda boss Andy Clarke explains, those types of products, including toilet rolls, washing powder and baked beans, would sit in a warehouse space at the back of the store, rather than on the shelves. Consumers would simply select what they need by interacting with the AI colleague and a touchscreen.
"Orders can be prepared for customers as soon as they walk in the door, because the supermarket will know which customers want to buy certain staple products based on their data," Clarke suggests.
"Shoppers can then choose whether that is delivered home, or whether it is put in the boot of their car."
Fashion and the virtual changing room
With such products taking up less room in the aisles, Clarke says supermarket operators would have more room to focus on the "experiential" side of grocery shopping.
But fashion – a core part of the big four's proposition – would also play a crucial role in this.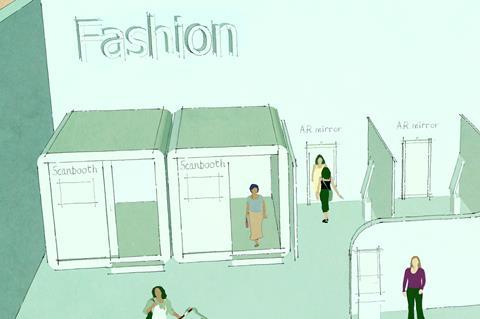 TCC Global insights director Bryan Roberts believes that supermarkets will increasingly move the non-food offer to the front of the store.

"Traditional fitting rooms will become scanning rooms, where shoppers can see what a garment will look like on them without having to actually try it on"

Andy Clarke, Spoon Guru
"Fresh departments then act as a natural funnel to draw shoppers through the rest of the store first, which has positive implications for impulse buys and the exploration of other categories," Roberts suggests.
The space dedicated to clothing and general merchandise would, however, be much reduced in comparison to the supermarkets and hypermarkets of today. Mezzanines carrying hundreds of SKUs would be replaced by a much smaller showroom-style layout.
Clarke predicts that traditional fitting rooms will become "scanning rooms", where shoppers can "see what a garment will look like on them without having to actually try it on". They will then have the option to order products online to be delivered to their home, or to be collected from the supermarket's warehouse and collected as they exit the store.
Diagonal aisles and groceries grown on site
Having been greeted by an AI assistant, and potentially shopped the general merchandise area, the shopper will then head on into the core grocery section.
Aisles would run diagonally rather than parallel to the walls of the shop, creating a different way of navigating the store, while lower shelving units would create a less claustrophobic feel for customers.
With ambient and general merchandise ranges relegated to the warehouse, aisles would be dedicated to merchandising the grocer's fresh produce, meat, poultry, fish and frozen ranges.
"There is going to be an increasing pressure to go into premium private label"

Vish Ganapathy, Accenture
And within those key categories, the proposition would look markedly different from those seen in stores today.
"There is going to be an increasing pressure to go into premium private label," Accenture managing director and global retail technology lead Vish Ganapathy states. "Waitrose are investing heavily in that area, Tesco are doing more and more – and that will increase exponentially across the board because it is a point of differentiation.
"There will also be a march towards hyper-localisation and growing that local proposition. Eating healthy and fresh produce will become a key selling point, even among things like meal kits and ready meals."
While that is likely to mean an increase in sourcing from hyper-local suppliers, it could also lead to a spike in supermarkets growing their own produce on site.
Grocery stores in Germany are beginning to adopt Infarm technology, which allows retailers to grow greens and herbs in-store within small greenhouses in the fresh produce aisles.
The units eliminate costs of transportation, storage and refrigeration, and use just a fraction of the water or fertiliser typically used on a farm, bringing benefits for both retailers and consumers.
"The separation of specialist dietary products will come to an end, Clarke believes"
'World foods' will also become more and more important, as globalisation ramps up and the pallet of the British consumer becomes even more cultured. Buying alliances, such as the one Tesco is forming with Carrefour, will also pave the way for more produce to enter British shops from across the globe.
The segmentation between cuisines like Indian, Italian, Mexican and Caribbean is likely to continue within aisles, but the separation of specialist dietary products will come to an end, Clarke believes.
"There won't be segmenting areas of the store to say 'shop in this bit if you're a vegan, shop in this bit if you're an organic shopper, shop in this bit if you're gluten-free'. At the moment we are still living with segmented stores based on those dietary choices. You feel as though you can only shop in one section if you are gluten-intolerant.
"There is a much wider range and choice of products that fit people's dietary needs than those customers actually realised. But we have schooled the customer to go to certain sections of the store.
"The objective, through technology and trained staff, will be to allow the customer to access products within core aisles, without separating them."
Digital labels and targeted offers
At the shelf edge, digital labelling – LED strips almost reminiscent of the electronic advertising hoardings seen at Premier League football stadia – will help to educate the customer about products.
The labelling will also allow retailers to amend prices quickly and easily – freeing up time for shopfloor staff to be interacting with customers – and pave the way for more interesting methods of in-store personalisation.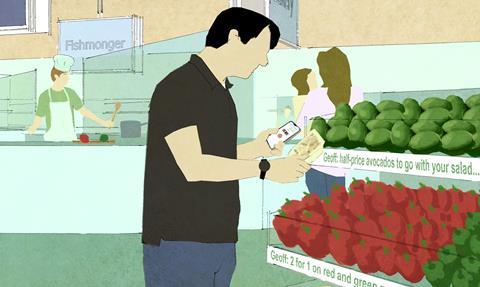 "They can obviously show prices and allow the retailer to make price changes more regularly, but also to send targeted offers to customers," Ganapathy says. "Beacons can track where customers are in-store and what they are looking at, and start displaying targeted offers to them while they are looking at any particular shelf."
"Bryan Roberts suggests that people who shop at counters spend on average 30% more than those who don't 'because they are likely to be a bit more engaged'"
Located in the middle of the aisles right in the centre of the store is what will become the beating heart of the supermarket – food counters and a cooking demonstration area. This will be where the "experiential" side of the store comes to life and creates a genuine buzz.
In the same way that Morrisons has expert butchers, fishmongers and bakers manning those counters in-store, all supermarkets will eventually count that as the norm.
Those employees will be able to offer expert advice, cut and fillet meat or fish for customers and even prepare meals with herbs, spices and sauces in 'ready to bake' bags or trays for shoppers to eat that night.
The benefits of doing so would be two-fold. Roberts believes it creates a clear opportunity to drive average transaction values, suggesting that people who shop at counters spend on average 30% more than those who don't "because they are likely to be a bit more engaged".
Cooking demonstrations
And for Mason, the counters will ultimately form a key part of supermarket operators' defence against their new breed of competitors.
"You've got to offer a convenient, better quality, better value version of Deliveroo"

Tim Mason, Eagle Eye
"The supermarket has to recognise the fact they are competing with Deliveroo," he warns. "You've got to offer a convenient, better quality, better value version of Deliveroo.
"It's about well-prepared, great quality meals for now, fresh out of your oven in your home, which are better than meals that were cooked 15 minutes ago and driven across town on a motorbike."
Sitting alongside the three counters will be a kitchen area, where in-house or special guest celebrity chefs will deliver regular cookery demonstrations to create a sense of retail theatre and to provide shoppers with new recipe ideas using seasonal ingredients that drive upsell opportunities, ideally in higher-margin categories.
That will be vital to the health of businesses in the longer term – but making life quick and easy for customers when it comes to paying for those goods will also be at the forefront of grocery retailers' minds, in the bid to carve out the complete shopping experience.
Pay on your trolley
Customers will be able to use their mobile phones to scan items as they shop and checkout as they exit the store. Their phone would either be logged by beacons as they depart, with their digital wallet automatically billed for their purchases, or they would scan a QR code as they walk out.
Alternatively, for shoppers who are uncomfortable using a smartphone app, hi-tech trollies lined with sensors would allow a second frictionless payment method.
The trolleys would detect what a customer has put in their basket, register the total they owe through beacons at the exit, and allow the customer to pay using their card on a chip-and-pin keypad built into the trolley.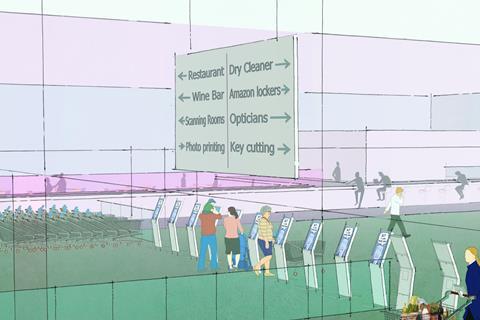 However, supermarkets will increasingly do more to ensure that consumers don't just visit supermarkets purely to do their grocery shop in a speedy fashion, but spend more time in the store.
Important services such as opticians, dry cleaners, pharmacies and Amazon lockers will line one wall of the store, while the opposite side of the property would house a much more experiential proposition, tapping into what Roberts describes as "an increasing convergence between foodservice and supermarkets".
Both Roberts and Ganapathy believe supermarkets will strive to operate their own in-house restaurants and cafés in key locations, to "place emphasis on in-store consumption of their own-label ranges".
"You can even use AI to essentially create on-the-fly recipes based on what customers have ordered from the menu, and offer to pick those ingredients on their behalf while they sit and dine. That's highly personalised shopping," Ganapathy says.
If supermarkets can blend that level of personalisation with a localised, convenient, entertaining and technology-centric shopping experience, they may just cook up a recipe for big-box success.
Retail Reimagined: How traditional formats might look if redesigned today
1

2

3

4

5

6

7

Currently reading

Retail Reimagined: Welcome to the supermarket 2.0

8