Retail as it once was no longer exists. That means a new style of leadership and strategy is required – one that embraces newly available technologies.
The digital revolution has blurred the line between retailers and technology companies. Asos calls itself a technology company; Amazon provides cloud services and has won rights to broadcast live sport; and tech firm Apple is revered for its global retail store portfolio.
Brave new world: leading through digital transformation, a research report from Retail Week and PwC, shines a light on the tactics, techniques and technologies retail's c-suite are using to navigate their way through this new world.
We surveyed 30 c-level retail leaders, compared the responses with those from 30 manager-level retail employees and conducted 15 in-depth c-suite interviews.
Key findings
Voice and visual search are the most popular investment areas, with a relatively even split between power technologies including artificial intelligence (AI), robotics and blockchain.
Both leaders and managers agree the pace of change and the pressure to digitally transform have increased over the past three years.
Three quarters of all retailers surveyed believe that digital transformation requires a new leadership mindset, and just over half say this movement will impact structure and jobs over the next five years.
C-suite and management level are in agreement on what is required to drive success, and that the battle for digital talent will intensify. Retail leaders plan to recruit externally, but there is only a finite resource.
The study reveals that retailers from all sectors – from furniture to fashion, and grocery to gifting – are taking digital transformation seriously
This could lead to a sharp increase in an already growing trend for retailers to collaborate with technology suppliers in full-scale partnership form, such as Marks & Spencer and Microsoft, compared with the traditional paid-for service model.
It is certainly something management level want to see more of – with only a third agreeing that supplier–retailer relationships are at the true partnership stage.
The study reveals that retailers from all sectors – from furniture to fashion, and grocery to gifting – are taking digital transformation seriously. The 15 in-depth c-suite interviews make it clear there are ambitious strategies being undertaken.
One chief information officer of a grocery retailer offers a vivid picture of how today's retail c-suite are setting up their operations and what they think is important.
"The interesting thing about this type of transformation is we are not sure there is a start and a finish," he says.
"We'll never finish transforming our customer experience. But now we are looking to augment it with better data so we can personalise more effectively and then we will put new forms of payment in there to make that frictionless – it's progressive transformation."
Tech vs culture
The chief digital and technology officer of another grocery retailer echoes this. "When you talk about digital transformation most people jump to the assumption that it's about technology, but actually a digital transformation is 30% technology, 70% culture," he says.
"You're taking your business on a cultural transformation and moving from a fixed mindset to a digital mindset, and from very traditional, rigid projects and programmes, to a tested, learned iterative roadmap.
"All that is changing the way businesses think, for example how finance thinks about justified business cases. Retailers have got to change all of that, alongside what we need to do from a technology perspective."
This report will show how some of the UK's largest retailers are managing this change and what those leading these businesses expect to be the best routes to success.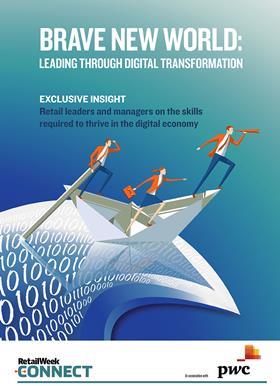 To read the full report for free, click here.

Equipping retail and consumer leaders across the UK with leading-edge expertise and insights to manage change, navigate complexity and unlock value.